01.04.2013 | Original Contribution | Ausgabe 3/2013 Open Access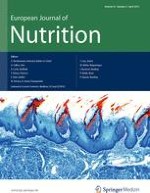 Associations of 25-hydroxyvitamin D with fasting glucose, fasting insulin, dementia and depression in European elderly: the SENECA study
Zeitschrift:
Autoren:

Elske M. Brouwer-Brolsma, Edith J. M. Feskens, Wilma T. Steegenga, Lisette C. P. G. M. de Groot
Introduction
Worldwide, approximately 347 million people are affected by diabetes [
1
], mainly type 2 diabetes. Recent epidemiological studies suggest that diabetic patients are at increased risk of dementia [
2
] and depression [
3
]. The question whether the observed associations between these three ageing-related diseases are the result of shared risk factors or specific biological mechanisms, however, remains to be solved. Vitamin D deficiency is one of the postulated links [
4
–
8
].
Hypovitaminosis D is commonly observed in the elderly population. A restricted ultraviolet light exposure, low vitamin D intake and a decreased skin synthesis capacity may be related to the development of vitamin D deficiency in ageing populations. In NHANES III, Martins and colleagues observed lower 25(OH)D levels in women, persons ≥60 years and obese and diabetic participants [
9
]. In 1984, a study among middle-aged and elderly English men and women showed that post-prandial glucose levels were highest during the winter period [
10
]. Since then, evidence supporting a role for vitamin D in glucose metabolism expanded, including among others the identification of vitamin D receptors in the human pancreatic β-cell [
11
], the expression of 1-α-hydroxylase enzyme in the β-cell [
12
] and stimulation of the expression of insulin receptors by vitamin D in vitro [
13
]. The presence of 1-α-hydroxylase in cerebrospinal fluid and the existence of vitamin D receptors (VDRs) on various brain structures [
14
] support the hypothesis that vitamin D is involved in mental health.
However, while animal experiments point towards a protective effect of vitamin D with regard to the development of several age-related diseases, population-based studies have not yet provided conclusive evidence for the association with diabetes [
4
,
15
], cognitive functioning [
16
–
24
] and depression [
6
–
8
,
25
–
28
]. Therefore, our objective in this European multicentre cohort study was to examine 25(OH)D and the association with markers of glucose metabolism, cognitive functioning and depression in elderly men and women.
Methods
Subjects
The study is conducted using baseline data collected from European elderly participating in the SENECA study; Survey in Europe on Nutrition and the Elderly, a Concerted Action [
29
]. Men and women aged 70–75 years who were living in pre selected towns across Europe were invited for participation in the study. Towns were selected based upon their representativeness of the population and socio-economic structure for the whole country. Psycho-geriatric patients living in nursing homes, persons who were not fluent in the country's language or not able to independently answer questions were excluded from participation. The total SENECA population comprised 2,586 participants. Markers of glucose metabolism and serum 25(OH)D levels were measured in 1989 and available for 1,554 and 860 participants, respectively. Of 593 participants, both 25(OH)D and markers of glucose metabolism were measured. Data on cognitive functioning and depression were obtained in 1993 and available for 443 and 482 participants, of whom serum 25(OH)D levels were measured in 116 and 118 participants, respectively. Measurements of serum 25(OH)D, markers of glucose metabolism and mental health were available of 98 (GDS) and 94 (MMSE) participants (Fig.
1
). Included in the analyses were participants from: Belgium: Hamme; Denmark: Roskilde; France: Strassbourg and Valence; Hungary: Monor; the Netherlands: Culemborg; Norway: Elverum; Switzerland: Yverdon, Burgdorf, and Bellinzona; Greece: Athens and Iraklion; Portugal: Lisbon; Spain: Madrid.
×
Mental status
Global cognitive functioning was assessed using the mini mental state examination (MMSE). The variable for analyses was defined as the maximum MMSE score minus the MMSE score of the participant, reflecting the number of erroneous answers. Mitchell et al. [
30
] recently reviewed the accuracy of the MMSE and showed a 85.1 % sensitivity and a 85.5 % specificity in non-clinical community settings. The 15-item geriatric depression scale (GDS) was used as a screenings tool for depression. Validation with the diagnostic and statistical manual of mental disorders (DSM-IV) revealed that 97.0 % of the persons with depression (sensitivity) and 54.8 % persons without depression (specificity) were correctly classified [
31
].
Biochemical analyses
Blood samples were taken between 7.30 and 9.30 AM while the participant was in a fasting state. Fasting blood samples (25 mL) were collected and 10 mL was transferred to another tube for serum separation. A portion (0–5 mL) of each serum sample was stored at −80 °C for 25(OH)D determination. All blood samples were sent on dry ice to the coordinating centre in Wageningen, the Netherlands, and stored at −80 °C. Serum 25(OH)D values were analysed by competitive protein-binding assay (coefficients of variation: within-assay 4–7 %, between-assay 7–10 %) at the TNO Nutrition and Food Research Institute, Zeist, the Netherlands. As 25(OH)D concentrations may fluctuate seasonally, 25(OH)D was only determined in blood samples collected between January and March 1989. Plasma glucose concentration was measured by the hexokinase method using the Hitachi 911 auto-analyser. Plasma insulin concentration was measured by using enzyme immunoassay (Boehringer-Mannheim, Mannheim, Germany), and insulin resistance was calculated using homeostatic model assessment-insulin resistance (HOMA-IR) from glucose and insulin concentrations [
32
].
Covariates
Information on education level (illiterate, primary, secondary or higher education), smoking status (non-smokers, former smokers or current smokers) and presence of chronic disease (including among others stroke and hypertension) was collected using questionnaires. The Voorrips questionnaire, designed to assess physical activity level in elderly people, was used to obtain information on habitual physical activity [
33
]. Subjects were divided into 3 groups according to sex-specific tertiles: low, moderate or high physical activity level. Dietary intake was assessed by trained dietitians using the dietary history method. The method consisted of a 3-day estimated record and a frequency checklist of foods, based on the meal pattern of the country and with the previous month as a reference period. Portion sizes were checked by weighing quantities of food and household measures. Intakes of nutrients and food groups were calculated in each country using local food composition tables. Food consumption data were arranged into food groups following the EUROCODE classification system [
34
].
Statistical analyses
Population characteristics are reported as mean with standard deviation (SD) or percentages. Medians with interquartile range were used to report skewed variables. Chi-squared tests for categorical variables and one-way analysis of variance for continuous variables were performed to compare baseline characteristics over tertiles of 25(OH)D. Multiple regression analyses were performed to study the associations between 25(OH)D and fasting plasma glucose (FPG), fasting plasma insulin (FPI) and HOMA-IR as markers of insulin resistance. FPG, FPI and HOMA-IR were not normally distributed and therefore logarithmically transformed. β's are presented as % with 95 % CI per 1 nmol/L increase in 25(OH)D (Table
3
). As both mental health variables followed a Poisson distribution, rate ratios (RRs) for 25(OH)D with global cognitive performance [
35
] and depression were calculated using multiple Poisson regression with the number of erroneous answers as outcome for global cognitive functioning and the number of depressive symptoms as an outcome for depression. Participants were categorized according to tertiles of 25(OH)D, using the lowest tertile as the reference category. In addition, a P- for trend across tertiles of 25(OH)D was calculated. All analyses were adjusted for age, sex (model 1), BMI, education, smoking, alcohol consumption, physical activity, study centre (model 2) and intake of calcium (model 3). To control for total energy intake, calcium intake was adjusted for total energy intake by using the regression residual method. The analyses were performed using the statistical package SAS, version 9.1 (SAS Institute Inc., Cary, NC, USA).
Results
Discussion
In this cross-sectional population-based study among European elderly, participants with higher serum 25(OH)D concentrations tended to have less depressive symptoms. The data does not support the hypothesis that higher serum vitamin D levels are associated with a better cognitive performance. Moreover, despite a modest inverse association between 25(OH)D and fasting plasma glucose, the hypothesized independent health benefits of 25(OH)D on insulin resistance could not be confirmed in this study.
In conclusion, this study showed a tendency towards an inverse association of 25(OH)D with FPG and depression but not with FPI, HOMA-IR and not with global cognitive performance. As the overall evidence for a role of vitamin D in glucose metabolism and mental health is still inconclusive, more prospective epidemiological studies, meta-analysis, randomized controlled trials and mechanistic studies are warranted.
Acknowledgments
This study was part of the EU/SENECA study on Nutrition and Health of the Elderly in Europe. The authors thank all principal investigators and collaborators of the SENECA study. Research presented in this article was financially supported by the Graduate School VLAG.
Conflict of interest
The authors declare that they have no conflict of interest.
Open Access
This article is distributed under the terms of the Creative Commons Attribution License which permits any use, distribution, and reproduction in any medium, provided the original author(s) and the source are credited.
Open Access
This article is distributed under the terms of the Creative Commons Attribution 2.0 International License (
https://​creativecommons.​org/​licenses/​by/​2.​0
), which permits unrestricted use, distribution, and reproduction in any medium, provided the original work is properly cited.