01.12.2017 | Research article | Ausgabe 1/2017 Open Access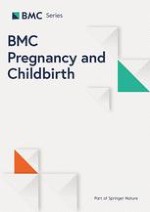 Associations of childhood maltreatment with pre-pregnancy obesity and maternal postpartum mental health: a cross-sectional study
Zeitschrift:
Autoren:

Michaela Nagl, Franziska Lehnig, Holger Stepan, Birgit Wagner, Anette Kersting
Abbreviations
BDI
Beck depression inventory
CTQ
Childhood trauma questionnaire
SCL-90-R
Symptom-Checklist-90 revised
Background
Summarizing, we can conclude that childhood maltreatment has been found to be associated with both, maternal obesity and impaired pre- and postnatal mental health and therefore could increase the likelihood of either obesity or mental disorders during the pregnancy and postpartum. Furthermore, if childhood maltreatment is associated with both conditions, and occurs before the development of obesity and impaired mental health, childhood maltreatment could at least partly account for the association between maternal obesity and mental health during pregnancy and postpartum. To the best of our knowledge there is no study examining associations between all three factors among pregnant/postpartum women thus far.
In our study, we aimed to take these drawbacks into account and to provide a detailed picture of associations between childhood maltreatment, pre-pregnancy BMI status and maternal postpartum mental health. Specifically, we aimed 1) to examine the prevalence of pre-pregnancy BMI categories and different forms of childhood maltreatment in a sample of 741 young adult women who gave birth at the Department of Obstetrics at Leipzig University within a 12-month period; 2) to explore associations between different forms of childhood maltreatment and pre-pregnancy underweight, overweight, and obesity relative to normal weight women taking into account the co-occurrence of other forms of childhood maltreatment, and 3) to examine whether childhood maltreatment accounts for the association between pre-pregnancy BMI and maternal postpartum mental health or whether pre-pregnancy BMI and childhood maltreatment independently predict postpartum mental health.
Methods
Results
Discussion
In our sample almost 8% of included women entered pregnancy with obesity. 46% reported a history of any abuse or neglect during childhood, with emotional and physical neglect and emotional abuse being reported most frequently. Considering associations between histories of childhood maltreatment and maternal obesity, we found that severe childhood physical abuse, moderate childhood emotional abuse and severe physical and emotional neglect were independently associated with a higher risk of pre-pregnancy obesity relative to normal weight. Even after adjusting for the co-occurrence of all other forms of childhood maltreatment, women with severe childhood physical abuse had a fivefold likelihood of pre-pregnancy obesity. A new finding of our study was that, the relationship between severe childhood physical abuse and pre-pregnancy obesity was even stronger after controlling for the co-occurrence of other types of childhood maltreatment. This result underpins the importance of childhood physical abuse in pre-pregnancy obesity. Considering maternal postpartum mental health, our results indicate that all forms of childhood maltreatment, depending on the severity, increased the risk of depression and anxiety after delivery. Pre-pregnancy obesity was associated with a 2.55-fold increased risk of postpartum depression but was not associated with anxiety. After including both, different forms of childhood maltreatment and maternal obesity, in multivariate models predicting postpartum depression, we found that severe childhood sexual abuse and maternal obesity independently predicted postpartum depression. In models for other forms of childhood maltreatment associations between pre-pregnancy obesity and depression diminished to non-significance while postpartum depression was still significantly associated with histories of childhood physical and emotional abuse as well as physical and emotional neglect. These results can be considered as an indication that – with the exception of childhood sexual abuse – childhood maltreatment may at least partly account for the association between maternal obesity and postpartum depression.
A major strength of our study is that we took the likely co-occurrence of several forms of childhood maltreatment into account and considered different grades of severity of childhood maltreatment and the whole BMI spectrum, allowing for a more precise evaluation of the association between childhood maltreatment and pre-pregnancy BMI relative to normal weight.
Conclusions
The results of our study suggest that childhood maltreatment is associated with two risk obstetric conditions, pre-pregnancy obesity and postpartum depression and anxiety, each of them bearing several health risks for the mother and the child. Therefore our results underline the potential long-term health consequences of early traumatic experiences during childhood. Thus routine screening of childhood maltreatment history is warranted in prenatal care to identify women at risk. A history of abuse and neglect may be an important barrier to both, effective obesity and depression/anxiety treatment. Furthermore, our results suggest that pregnant women with obesity may be particularly vulnerable to postpartum depression and more likely to have experienced childhood maltreatment. Clinicians should be aware of these associations to provide targeted counselling. Prospective studies are needed to clarify the mechanisms of these associations. Furthermore, future studies should take into account further factors which might play a role as possible mediators in these associations, e.g., intimate partner violence or traumatic experiences over the life-span.
Acknowledgements
Not applicable.
Funding
This work was supported by the Federal Ministry of Education and Research (Bundesministerium für Bildung und Forschung, BMBF), Germany, grant no.: 01EO1001.
The funding source was not involved in the study design, the collection, analysis and interpretation of data, in the writing of the report or in the decision to submit the article for publication.
Availability of data and materials
The data used for analysis could be made available from the corresponding author upon request.
Ethics approval and consent to participate
The present study was approved by the Ethical Committee of the University of Leipzig, Germany (AZ: 187-13-15,072,013). From all mothers who were willing to participate a written informed consent was obtained.
Consent for publication
Not applicable
Competing interests
The authors declare that they have no competing interests.
Publisher's Note
Springer Nature remains neutral with regard to jurisdictional claims in published maps and institutional affiliations.
Open Access
This article is distributed under the terms of the Creative Commons Attribution 4.0 International License (
http://​creativecommons.​org/​licenses/​by/​4.​0/​
), which permits unrestricted use, distribution, and reproduction in any medium, provided you give appropriate credit to the original author(s) and the source, provide a link to the Creative Commons license, and indicate if changes were made. The Creative Commons Public Domain Dedication waiver (
http://​creativecommons.​org/​publicdomain/​zero/​1.​0/​
) applies to the data made available in this article, unless otherwise stated.