23.11.2016 | Clinical Article - Neurosurgical Anatomy | Ausgabe 1/2017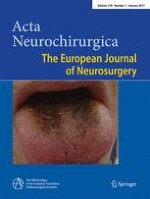 Associations of intracranial pressure with brain biopsy, radiological findings, and shunt surgery outcome in patients with suspected idiopathic normal pressure hydrocephalus
Zeitschrift:
Autoren:

Maria Kojoukhova, Krista-Irina Vanha, Matti Timonen, Anne M. Koivisto, Ossi Nerg, Jaana Rummukainen, Tuomas Rauramaa, Ritva Vanninen, Juha E. Jääskeläinen, Anna Sutela, Ville Leinonen
Wichtige Hinweise
Anna Sutela and Ville Leinonen shared last authorship
Comments
Kojoukhova and colleagues have retrospective analyzed 73 patients with suspected idiopathic normal pressure hydrocephalus to find potential associations of intracranial pressure with brain biopsy, radiological findings, and shunt surgery outcome.
As the authors point out, in idiopathic normal pressure hydrocephalus the pathophysiology is still not completely understood, and a multifactorial disease seems to be highly probable.
Thus, the present article comparing ICP data with neuropatholocical, neuroradiological and clinical post-shunt-surgery results could be highly relevant. The limitations of the present article—most importantly the retrospective design of the study, relatively small number of patients, and lack of standardized, objective criteria to assess shunt response—have been adequately discussed.
Marcus Reinges
Giessen, Germany
Abstract
Background
It remains unclear how intracranial pressure (ICP) measures are associated with brain biopsies and radiological markers. Here, we aim to investigate associations between ICP and radiological findings, brain biopsies, and shunt surgery outcome in patients with suspected idiopathic normal pressure hydrocephalus (iNPH).
Method
In this study, we retrospectively analyzed data from 73 patients admitted with suspected iNPH to Kuopio University Hospital. Of these patients, 71% underwent shunt surgery. The NPH registry included data on clinical and radiological examinations, 24-h intraventricular pressure monitoring, and frontal cortical biopsy.
Results
The mean ICP and mean ICP pulse wave amplitude were not associated with the shunt response. Aggregations of Alzheimer's disease (AD)-related proteins (amyloid-β, hyperphosphorylated tau) in frontal cortical biopsies were associated with a poor shunt response (
P
 = 0.014). High mean ICP was associated with Evans' index (EI;
P
 = 0.025), disproportional sylvian and suprasylvian subarachnoid spaces (
P
 = 0.014), and focally dilated sulci (
P
 = 0.047). Interestingly, a high pulse wave amplitude was associated with AD-related biopsy findings (
P
 = 0.032), but the mean ICP was not associated with the brain biopsy. The ICP was not associated with medial temporal lobe atrophy, temporal horn widths, or white matter changes. ICP B waves were associated with less atrophy of the medial temporal lobe (
P
 = 0.018) and more severe disproportionality between the sylvian and suprasylvian subarachnoid spaces (
P
 = 0.001).
Conclusions
The EI and disproportional sylvian and suprasylvian subarachnoid spaces were associated with mean ICP. Disproportionality was also associated with ICP B waves. These associations, although rather weak, with elevated ICP in 24-h measurements, support their value in iNPH diagnostics and suggest that these radiological markers are potentially related to the pathogenesis of iNPH. Interestingly, our results suggested that elevated pulse wave amplitude might be associated with brain amyloid accumulation.