01.12.2012 | Original investigation | Ausgabe 1/2012 Open Access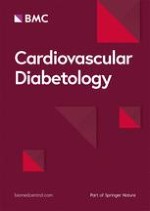 Associations of the
FTO

rs9939609 and the

MC4R

rs17782313 polymorphisms with type 2 diabetes are modulated by diet, being higher when adherence to the Mediterranean diet pattern is low
Zeitschrift:
Autoren:

Carolina Ortega-Azorín, Jose V Sorlí, Eva M Asensio, Oscar Coltell, Miguel Ángel Martínez-González, Jordi Salas-Salvadó, Maria-Isabel Covas, Fernando Arós, José Lapetra, Lluís Serra-Majem, Enrique Gómez-Gracia, Miquel Fiol, Guillermo Sáez-Tormo, Xavier Pintó, Miguel Angel Muñoz, Emilio Ros, Jose M Ordovás, Ramon Estruch, Dolores Corella
Wichtige Hinweise
Electronic supplementary material
The online version of this article (doi:
10.​1186/​1475-2840-11-137
) contains supplementary material, which is available to authorized users.
Carolina Ortega-Azorín, Jose V Sorlí contributed equally to this work.
Competing interests
JSS is a non paid member of the Scientific Advisory Board of the International Nut Council, Reus, Spain. ER is a non paid member of the Scientific Advisory Committee of the California Walnut Commission, Sacramento, CA. The other authors have no competing interest affecting the conduct or reporting of the work submitted.
Authors' contributions
DC, RE, JMO, JVS, MAMG, ER, JSS, MIC, and LSM designed research; COA, JVS, EMA, MAMG, EGG, JSS, MF, MIC, ER, RE, FA, and LSM conducted research; JVS, MAMG, JSS, MIC, RE, FA, JL, LSM, EGG, MF, GST, XP, and MAM provided essential materials; DC, COA, JVS, OC analyzed data and performed statistical analysis; DC, JVS, and JMO wrote paper; DC and JVS had primary responsibility for final content. All authors made substantial contributions to conception and design, acquisition of data or analysis and interpretation of data, drafting the article or revising it critically for important intellectual content and approved the final version of the manuscript. All authors read and approved the final manuscript.
Abstract
Background
Although the Fat Mass and Obesity (
FTO
) and Melanocortin-4 Receptor (
MC4R
) genes have been consistently associated with obesity risk, the association between the obesity-risk alleles with type 2 diabetes is still controversial. In some recent meta-analyses in which significant results have been reported, the associations disappeared after adjustment for body mass index (BMI). However gene-diet interactions with dietary patterns have not been investigated. Our main aim was to analyze whether these associations are modulated by the level of adherence to the Mediterranean Diet (MedDiet).
Methods
Case-control study in 7,052 high cardiovascular risk subjects (3,430 type 2 diabetes cases and 3,622 non-diabetic subjects) with no differences in BMI. Diet was assessed by validated questionnaires.
FTO
-rs9939609 and
MC4R
-rs17782313 were determined. An aggregate genetic score was calculated to test additive effects. Gene-diet interactions were analyzed.
Results
Neither of the polymorphisms was associated with type 2 diabetes in the whole population. However, we found consistent gene-diet interactions with adherence to the MedDiet both for the
FTO-
rs9939609 (P-interaction=0.039), the
MC4R
-rs17782313 (P-interaction=0.009) and for their aggregate score (P-interaction=0.006). When adherence to the MedDiet was low, carriers of the variant alleles had higher type 2 diabetes risk (OR=1.21, 95%CI: 1.03-1.40; P=0.019 for
FTO-
rs9939609 and OR=1.17, 95%CI:1.01-1.36; P=0.035 for
MC4R
-rs17782313) than wild-type subjects. However, when adherence to the MedDiet was high, these associations disappeared (OR=0.97, 95%CI: 0.85-1.16; P=0.673 for
FTO-
rs9939609 and OR=0.89, 95%CI:0.78-1.02; P=0.097 for
MC4R
-rs17782313). These gene-diet interactions remained significant even after adjustment for BMI. As MedDiet is rich in folate, we also specifically examined folate intake and detected statistically significant interaction effects on fasting plasma glucose concentrations in non-diabetic subjects. However these findings should be interpreted with caution because folate intake may simply reflect a healthy dietary pattern.
Conclusions
These novel results suggest that the association of the
FTO
-rs9939609 and the
MC4R
-rs17782313 polymorphisms with type 2 diabetes depends on diet and that a high adherence to the MedDiet counteracts the genetic predisposition.