01.01.2010 | Review | Ausgabe 1/2010 Open Access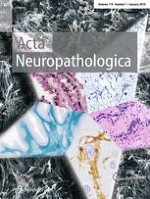 Astrocytes: biology and pathology
Zeitschrift:
Autoren:

Michael V. Sofroniew, Harry V. Vinters
Introduction
Until quite recently, the prevailing view regarding the biology and pathology of astrocytes among those studying clinical disorders and structural lesions of the central nervous system (CNS) was most likely to be that (1) astrocytes are supportive glial cell components in neural tissue and (2) reactive astrogliosis is a reliable and sensitive marker of diseased tissue. The notion that dysfunctions of astrocytes or reactive astrocytes might contribute to the presentation of clinical signs or to mechanisms leading to pathological changes in CNS tissue was generally not considered. However, this viewpoint is gradually changing as a result of steadily increasing interest in and study of the biology and pathology of astrocytes. Over the past 25 years it has become clear that astrocytes are responsible for a wide variety of complex and essential functions in the healthy CNS, including primary roles in synaptic transmission and information processing by neural circuit functions. The functions and mechanisms of reactive astrogliosis and glial scar formation are gradually being elucidated. There is a growing body of evidence that points towards the potential for loss of normal astrocyte functions or gain of abnormal effects to contribute to, or play primary roles in, disease processes, and there are now numerous examples of astrocyte contributions to clinical and pathological mechanisms [
15
,
52
,
212
,
224
–
226
,
237
]. This article summarizes recent advances in (1) astrocyte functions in healthy tissue, (2) the gradations, mechanisms, functions, and effects of reactive astrogliosis, and (3) the appearance and potential roles of reactive astrocytes in a variety of CNS disorders and pathologies.
Astrocyte biology in healthy CNS
Reactive astrogliosis and glial scar formation
Astrocyte appearance and roles in CNS disorders and pathology
Acknowledgments
Work in the authors' laboratories is supported by grants from NIH, RO1 NS057624 (MVS), P50 AG16570 (HVV) and P01 AG12435 (HVV), the Roman Reed Spinal Cord Injury Research Fund (MVS) and Wings for Life (MVS) and the Daljit S. and Elaine Sarkaria Chair in Diagnostic Medicine (HVV). Nicole Yin and Spencer Tung assisted with preparation of illustrations.
Open Access
This article is distributed under the terms of the Creative Commons Attribution Noncommercial License which permits any noncommercial use, distribution, and reproduction in any medium, provided the original author(s) and source are credited.