01.09.2009 | Ausgabe 5/2009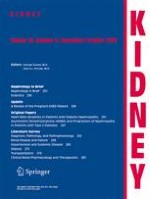 Asymmetric Dimethylarginine (ADMA) and Progression of Nephropathy in Patients with Type 2 Diabetes
Zeitschrift:
Autoren:

Heba Sayed Assal, Khaled Younes, Ahmed Alsayed, Nehal Hasan, Ahmed Ramadan Ali
Abstract
Diabetic nephropathy is the leading cause of kidney failure all over the world. Asymmetric dimethylarginine (ADMA) is an endogenous inhibitor of endothelial nitric oxide (NO) synthase. ADMA is in part eliminated via urinary excretion. It is found to be elevated in end stage renal disease. Identification of the plasma concentrations of ADMA in patients with different stages of diabetic nephropathy compared with healthy age-matched control subjects for estimation of the role of ADMA as a marker of progression of kidney disease in diabetic patients. Seventy-five diabetic patients were divided into five groups: Group I: patients with normoalbuminuria (urinary albumin excretion UAE < 30 mg/d), Group II: patients with microalbuminuria (UAE: 30–300 mg/d), Group III: patients with macroalbuminuria (UAE > 300 mg/d), Group IV: patients one month after renal transplantation and Group V: patients on haemodialysis. Patients were compared to 15 healthy control subjects matched for age and sex. All subjects subjected to thorough clinical examination and laboratory investigations including: serum albumin, urea, creatinine, fasting and postprandial blood glucose, UAE, urinary albumin/creatinine ratio and serum ADMA level. All patients groups had significantly higher levels of ADMA when compared to control group
P 
< 0.01. The levels of ADMA were positively correlated with disease progression and degree of proteinuria. ADMA can be used as a marker of progression of kidney disease among diabetic patients.