01.12.2018 | Research Article | Ausgabe 1/2018 Open Access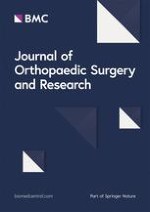 Asymmetrical degenerative marrow (Modic) changes in cervical spine: prevalence, correlative factors, and surgical outcomes
Zeitschrift:
Autoren:

Xianda Gao, Jia Li, Yiqing Shi, Shaoqing Li, Yong Shen
Abstract
Background
The current study aimed to discuss the prevalence and surgical outcomes of the asymmetrical Modic changes and identify its correlative factors by multivariate logistic regression analysis.
Methods
Two hundred seventy-eight patients with single-level Modic changes and nerve compression symptoms were reviewed retrospectively from January 2008 to January 2015. 1.5-T MRI was performed to determine the Modic changes. Multivariate logistic regression analysis was used to identify the correlative factors of asymmetrical Modic changes. Surgeries were performed according to the surgical indications. The outcomes were recorded by Japanese Orthopaedic Association (JOA) score, Neck Disability Index (NDI) score, and recovery rate.
Results
Asymmetrical Modic changes were observed in 76 patients (27.34%) with 4 type 1, 69 type 2, and 3 type 3. C5/6 was the most frequently affected segment with 39 patients showing signal changes on MRI. Statistically significant difference was showed in conservative rehabilitation rate between two groups (
p
 = 0.043). Multiple logistic regression analysis identified disc herniation and neurological symptoms as correlative factors of asymmetrical Modic changes, and the adjusted odds ratios (95% CI) were 2.079 (1.348–3.208) and 0.231 (0.143–0.373) respectively. No statistically significant difference was found in JOA scores and NDI scores between the two kinds of Modic changes.
Conclusions
C5/6 was the most commonly affected level by Modic changes. Disc herniation and nerve root compression symptom were more closely correlated with asymmetrical Modic changes than conventional Modic changes. Asymmetrical Modic changes indicated poor result in conservative treatment; however, the final operation rate was similar between the two kinds of Modic changes. The outcomes of surgical treatment were satisfactory both in patients with asymmetrical Modic changes and conventional Modic changes.