01.12.2014 | Research | Ausgabe 1/2014 Open Access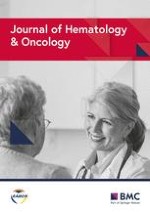 ATP directed agent, 8-chloro-adenosine, induces AMP activated protein kinase activity, leading to autophagic cell death in breast cancer cells
Zeitschrift:
Autoren:

Christine M Stellrecht, Hima V Vangapandu, Xiao-Feng Le, Weiqun Mao, Shujun Shentu
Wichtige Hinweise
Electronic supplementary material
The online version of this article (doi:
10.​1186/​1756-8722-7-23
) contains supplementary material, which is available to authorized users.
Competing interest
The authors declare that they have no competing interest.
Authors' contributions
CMS wrote the manuscript, performed transfections experiments, immunoblot, HPLC, mouse xenograft, flow cytometry and microscopic analyses, analyzed and designed all experiments; HVP performed and analyzed glycolysis and aerobic respiration analysis; XFL and WM provided assistance and guidance in mouse xenograft studies; SS performed immunoblot and mouse xenograft analysis and prepared samples for HPLC and flow cytometry. All authors read and approved the final manuscript.
Abstract
Background
8-chloro-adenosine (8-Cl-Ado) is a unique ribonucleoside analog which is currently in a phase I clinical trial for hematological malignancies. Previously, we demonstrated in breast cancer cells that a 3-day treatment with 10 μM 8-Cl-Ado causes a 90% loss of clonogenic survival. In contrast, there was only a modest induction of apoptosis under these conditions, suggesting an alternative mechanism for the tumoricidal activity of 8-Cl-Ado.
Methods
Cellular metabolism, AMP-activated protein kinase (AMPK) and mammalian target of rapamycin (mTOR) pathway signaling, as well as autophagy induction was evaluated in breast cancer cell lines treated with 8-Cl-Ado. The effects of knocking down essential autophagy factors with small interfering RNA on 8-Cl-Ado-inhibited cell survival was assessed in breast cancer cells by examining apoptosis induction and clonogenic survival.
In vivo
efficacy of 8-Cl-Ado was measured in two breast cancer orthotopic model systems.
Results
We demonstrate that in breast cancer cell lines, the metabolism of 8-Cl-Ado results in depletion of endogenous ATP that subsequently induces the phosphorylation and activation of the energy sensor, AMPK. This was associated with an attenuation of mTOR signaling and an induction of the phosphorylation of the autophagy factor, Unc51-like kinase 1 on Ser555. 8-Cl-Ado-mediated induction of autophagy was evident by increased aggregates of microtubule-associated protein 1 light chain 3B (LC3B) which was associated with its conversion to its lipidated form, LC3B-II, p62 degradative flux, and increased formation of acidic vesicular organelles. Additionally, transfection of MCF-7 cells with siRNA to ATG7 or beclin 1 provided partial protection of the cells to 8-Cl-Ado cytotoxicity as measured by clonogenicity.
In vivo
, 8-Cl-Ado inhibited growth of both MCF-7 and BT-474 xenograft tumors. Moreover, in 9 of 22 BT-474 tumors treated with 100 mg/kg/day 3 times a week, there was an absence of macroscopically detectable tumor after 3 weeks of treatment.
Conclusions
Our data demonstrates that 8-Cl-Ado treatment activates the AMPK pathway leading to autophagy induction of in breast cancer cells, eliciting, in part, its tumoricidal effects. Additionally, 8-Cl-Ado effectively inhibited
in vivo
tumor growth in mice. Based on this biological activity, we are planning to test 8-Cl-Ado in the clinic for patients with breast cancer.