01.12.2018 | Case report | Ausgabe 1/2018 Open Access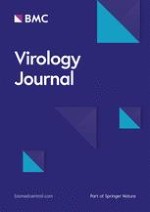 Atrial fibrillation in a patient with Zika virus infection
Zeitschrift:
Autoren:

Ligia Fernandes Abdalla, João Hugo Abdalla Santos, Renata Teodora Jales Barreto, Erick Martins e Souza, Fabrício Fonseca D'Assunção, Márcio Aurélio Borges, Valdinete Alves Nascimento, George Allan Villarouco da Silva, Victor Costa de Souza, Rajendranath Ramasawmy, Ana Carolina Campi-Azevedo, Jordana Graziela Coelho-dos-Reis, Lis Ribeiro do Vale Antonelli, Andréa Teixeira-Carvalho, Olindo Assis Martins-Filho, Felipe Gomes Naveca
Abstract
Background
Zika virus is an emerging arbovirus of the family
Flaviviridae
and genus
Flavivirus
that until 2007 was restricted to a few cases of mild illness in Africa and Asia.
Case presentation
We report a case of atrial fibrillation disclosed during an acute Zika virus infection in a 49-year-old man. Different biological samples were analyzed for the molecular diagnosis of Zika by real-time PCR, however only the saliva specimen was positive. The patient's wife tested positive in the serum sample, although she was an asymptomatic carrier. Moreover, a complete overview of patient's biomarkers, including cytokines, chemokines, and growth-factors levels, was analyzed and compared to gender and age matching non-infected controls, as well as other Zika infected patients, considering the 95%CI of the mean values. Elevated levels of CXCL8, CCL11, CCL2, CXCL10, IL-1β, IL-6, TNF-α, IFN-γ, IL-17, IL-1Ra, IL-4, IL-9, FGF-basic, PDGF, G-CSF, and GM-CSF were observed in the Atrial fibrillation patient, in contrast to uninfected controls. Furthermore, increased levels of CCL5, IL-1β, TNF-α, IFN-γ, IL-9, G-CSF, and GM-CSF were observed only in the atrial fibrillation patient, when compared to other Zika patients.
Conclusions
To our knowledge, this is the first description of this type of cardiac disorder in Zika patients which may be considered another atypical manifestation during Zika virus infection.