01.12.2017 | Research | Ausgabe 1/2017 Open Access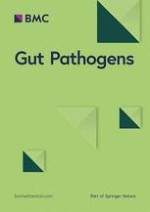 Attenuation of
Helicobacter pylori

-induced gastric inflammation by prior

cag

− strain (AM1) infection in C57BL/6 mice
Zeitschrift:
Autoren:

Nillu Ghosh, Prachetash Ghosh, Kousik Kesh, Asish K. Mukhopadhyay, Snehasikta Swarnakar
Abstract
Background
Helicobacter pylori,
colonize in stomach of ~50% of the world population.
cag
pathogenicity Island of
H. pylori
is one of the important virulent factors that attributed to gastric inflammation. Coinfection with
H. pylori
strain with different genetic makeup alters the degree of pathogenicity and susceptibility towards antibiotics. The present study investigates host immunomodulatory effects of
H. pylori
infection by both
cag
+
strain (SS1) and
cag
−
strain (AM1). C57BL/6 mice were infected with AM1 or SS1 strain as well as AM1 followed by SS1 (AM1/SS1) and vice versa.
Results
Mice infected with AM1/SS1 strain exhibited less gastric inflammation and reduced proMMP9 and proMMP3 activities in gastric tissues as compared to SS1/SS1 and SS1/AM1 infected groups. The expression of both MMP9 and MMP3 followed similar trend like activity in infected tissues. Both Th1 and Th17 responses were induced by SS1 strain more profoundly than AM1 strain infection which induced solely Th1 response in spleen and gastric tissues. Moreover, IFN-γ, TNF-α, IL-1β and IL-12 were significantly downregulated in mice spleen and gastric tissues infected by AM1/SS1 compared to SS1/SS1 but not with SS1/AM1 coinfection. Surprisingly, IL-17 level was dampened significantly in AM1/SS1 compared to SS1/AM1 coinfected groups. Furthermore, number of Foxp3+ T-regulatory (Treg) cells and immunosuppressive cytokines like IL-10 and TGF-β were reduced in AM1/SS1 compared to SS1/SS1 and SS1/AM1 coinfected mice gastric tissues.
Conclusions
These data suggested that prior
H. pylori cag
−
strain infection attenuated the severity of gastric pathology induced by subsequent
cag
+
strain in C57BL/6 mice. Prior AM1 infection induced Th1 cytokine IFN-γ, which reduced the Th17 response induced by subsequent SS1 infection. The reduced gastritis in AM1/SS1-infected mice might also be due to enrichment of AM1- primed Treg cells in the gastric compartment which inhibit Th1 and Th17 responses to subsequent SS1 infection. In summary, prior infection by non-virulent
H. pylori
strain (AM1) causes reduction of subsequent virulent strain (SS1) infection by regulation of inflammatory cytokines and MMPs expression.