08.02.2019 | ORIGINAL ARTICLE | Ausgabe 3/2019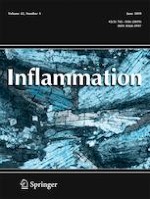 Attenuation of Sepsis-Induced Cardiomyopathy by Regulation of MicroRNA-23b Is Mediated Through Targeting of MyD88-Mediated NF-κB Activation
Zeitschrift:
Autoren:

Chao Cao, Yan Zhang, Yanfen Chai, Lijun Wang, Chengfen Yin, Songtao Shou, Heng Jin
Wichtige Hinweise
Electronic supplementary material
Publisher's Note
Springer Nature remains neutral with regard to jurisdictional claims in published maps and institutional affiliations.
Abstract
Myocardial cell injury or cardiomyopathy is associated with excessive inflammatory response and apoptosis of cardiac myocytes during sepsis. MicroRNA-23b (miR-23b) is a multifunctional miRNA that is considered to regulate immunosuppression in sepsis. The aim of this study was to examine the effect of miR-23b on cardiomyopathy induced by sepsis and to explore the potential mechanism involved. Sprague-Dawley rats were subjected to cecal ligation and puncture (CLP), and the level of miR-23b at different time points was measured by quantitative real-time polymerase chain reaction (qPCR). Then, we overexpressed miR-23b
in vivo
and
in vitro
. The rats were subjected to CLP 7 days after transfection. Cardiac function, inflammatory response, and heart tissues were examined 3 days thereafter. In an
in vitro
experiment, H9C2 cardiomyoblasts were stimulated with lipopolysaccharide (LPS) after transfection of miR-23b, following which apoptosis and the level of NF-κB were analyzed. The expression of miR-23b was upregulated during polymicrobial sepsis, and transfection of miR-23b lentivirus improved the outcome of sepsis-induced cardiomyopathy by attenuating inflammatory responses and protecting against histopathological damage. In
in vitro
experiments, elevated miR-23b inhibited excessive apoptosis of cardiomyocytes, which may be because activation of the NF-κB signaling pathway was inhibited by the decreased levels of TRAF6 and IKKβ. Therefore, miR-23b improved sepsis-induced cardiomyopathy by attenuating the inflammatory response, suppressing apoptosis, and preventing NF-κB activation
via
targeted inhibition of TRAF6 and IκκB. These results indicated that miR-23b may represent a novel therapeutic approach for clinical treatment of sepsis-induced cardiomyopathy.