01.12.2018 | Research | Ausgabe 1/2018 Open Access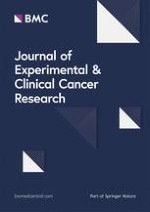 Attenuation of TGFBR2 expression and tumour progression in prostate cancer involve diverse hypoxia-regulated pathways
Zeitschrift:
Autoren:

Hui Zhou, Guanqing Wu, Xueyou Ma, Jun Xiao, Gan Yu, Chunguang Yang, Nan Xu, Bao Zhang, Jun Zhou, Zhangqun Ye, Zhihua Wang
Wichtige Hinweise
Electronic supplementary material
Abstract
Background
Dysregulation of transforming growth factor β (TGF-β) signaling and hypoxic microenvironment have respectively been reported to be involved in disease progression in malignancies of prostate. Emerging evidence indicates that downregulation of TGFBR2, a pivotal regulator of TGF-β signaling, may contribute to carcinogenesis and progression of prostate cancer (PCa). However, the biological function and regulatory mechanism of TGFBR2 in PCa remain poorly understood. In this study, we propose to investigate the crosstalk of hypoxia and TGF-β signaling and provide insight into the molecular mechanism underlying the regulatory pathways in PCa.
Methods
Prostate cancer cell lines were cultured in hypoxia or normoxia to evaluate the effect of hypoxia on TGFBR2 expression. Methylation specific polymerase chain reaction (MSP) and demethylation agents was used to evaluate the methylation regulation of TGFBR2 promoter. Besides, silencing of EZH2 via specific siRNAs or chemical inhibitor was used to validate the regulatory effect of EZH2 on TGFBR2. Moreover, we conducted PCR, western blot, and luciferase assays which studied the relationship of miR-93 and TGFBR2 in PCa cell lines and specimens. We also detected the impacts of hypoxia on EZH2 and miR-93, and further examined the tumorigenic functions of miR-93 on proliferation and epithelial-mesenchymal transition via a series of experiments.
Results
TGFBR2 expression was attenuated under hypoxia. Hypoxia-induced EZH2 promoted H3K27me3 which caused TGFBR2 promoter hypermethylation and contributed to its epigenetic silencing in PCa. Besides, miR-93 was significantly upregulated in PCa tissues and cell lines, and negatively correlated with the expression of TGFBR2. Ectopic expression of miR-93 promoted cell proliferation, migration and invasion in PCa, and its expression could also be induced by hypoxia. In addition, TGFBR2 was identified as a bona fide target of miR-93.
Conclusions
Our findings elucidate diverse hypoxia-regulated pathways including EZH2-mediated hypermethylation and miR-93-induced silencing contribute to attenuation of TGFBR2 expression and promote cancer progression in prostate cancer.