01.12.2012 | Research article | Ausgabe 1/2012 Open Access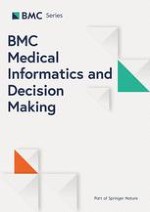 Attitudes among healthcare professionals towards ICT and home follow-up in chronic heart failure care
Zeitschrift:
Autoren:

Anna Gund, Kaj Lindecrantz, Maria Schaufelberger, Harshida Patel, Bengt Arne Sjöqvist
Wichtige Hinweise
Electronic supplementary material
The online version of this article (doi:
10.​1186/​1472-6947-12-138
) contains supplementary material, which is available to authorized users.
Competing interests
BAS was at the time of the survey employed by Ortivus AB. There are no other known competing interests in this study.
Authors' contributions
AG designed the questionnaire together with KL, BAS and MS. She was also in charge of dispatching, collecting and analysing the questionnaires. Moreover, she was the main author of the manuscript. KL and BAS both supervised and were responsible for the project. They took part in all decisions on design and analysis, and were also the main mediators of funding. MS and HP took part in analysis and discussing regarding the results. All authors took part in writing, reading and approving the manuscript.
Abstract
Background
eHealth applications for out-of-hospital monitoring and treatment follow-up have been advocated for many years as a promising tool to improve treatment compliance, promote individualized care and obtain a person-centred care. Despite these benefits and a large number of promising projects, a major breakthrough in everyday care is generally still lacking. Inappropriate organization for eHealth technology, reluctance from users in the introduction of new working methods, and resistance to information and communication technology (ICT) in general could be reasons for this. Another reason may be attitudes towards the potential in out-of-hospital eHealth applications. It is therefore of interest to study the general opinions among healthcare professionals to ICT in healthcare, as well as the attitudes towards using ICT as a tool for patient monitoring and follow-up at home. One specific area of interest is in-home follow-up of elderly patients with chronic heart failure (CHF). The aim of this paper is to investigate the attitudes towards ICT, as well as distance monitoring and follow-up, among healthcare professionals working with this patient group.
Method
This paper covers an attitude survey study based on responses from 139 healthcare professionals working with CHF care in Swedish hospital departments, i.e. cardiology and medicine departments. Comparisons between physicians and nurses, and in some cases between genders, on attitudes towards ICT tools and follow-up at home were performed.
Results
Out of the 425 forms sent out, 139 were collected, and 17 out of 21 counties and regions were covered in the replies. Among the respondents, 66% were nurses, 30% physicians and 4% others. As for gender, 90% of nurses were female and 60% of physicians were male. Internet was used daily by 67% of the respondents. Attitudes towards healthcare ICT were found positive as 74% were positive concerning healthcare ICT today, 96% were positive regarding the future of healthcare ICT, and 54% had high confidence in healthcare ICT. Possibilities for distance monitoring/follow-up are good according to 63% of the respondents, 78% thought that this leads to increased patient involvement, and 80% thought it would improve possibilities to deliver better care. Finally, 72% of the respondents said CHF patients would benefit from home monitoring/follow-up to some extent, and 19% to a large extent. However, the best method of follow-up was considered to be home visits by nurse, or phone contact.
Conclusion
The results indicate that a majority of the healthcare professionals in this study are positive to both current and future use of ICT tools in healthcare and home follow-up. Consequently other factors have to play an important role in the slow penetration of out-of-hospital eHealth applications in daily healthcare practice.