01.12.2018 | Research | Ausgabe 1/2018 Open Access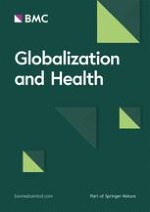 Attitudes and awareness of medical assistance while traveling abroad
Zeitschrift:
Autoren:

Yi-Hsuan Lee, Chia-Wen Lu, Pei-Zu Wu, Hsien-Liang Huang, Yi-Chun Wu, Kuo-Chin Huang
Wichtige Hinweise
Electronic supplementary material
Background
Methods
Design
This study was a cross-sectional survey using a well-structured, three-part questionnaire that was distributed to all patients at the travel clinic in National Taiwan University Hospital (NTUH) from April 2014 to May 2014. Return and completion of the questionnaire represented the subject's consent of participation. The questionnaire was completed anonymously.
Subjects
The targeted participants were all adult patients over 18 years old with prior experience traveling abroad. Patients who were unwilling or unable to complete the questionnaire were excluded. The design of the study and selection of subjects were approved by the Research Ethics Committee at National Taiwan University Hospital in Taiwan (201402078RINB) before the study was conducted.
Questionnaire
The three-part questionnaire included questions on socio-demographic characteristics, attitudes, and awareness towards the EMAS commonly provided to insured travelers. The questionnaire was pretested for face validity by a panel of ten physicians with experience in the clinical practice of travel medicine, including family medicine specialists, infectious disease specialists and pediatricians, from NTUH and Centers for Disease Control (CDC), Taiwan. A literature review and consensus opinion from five physicians at NTUH and CDC, Taiwan, were also conducted to test the content validity of the questionnaire. However, few studies have investigated the perceived importance and awareness of preparedness measures during travel, such as EMAS provided by insurance companies in this study. To the best of our knowledge, other measures are not available to correlate our results with. The five physicians were asked to verify whether the factors regarding travel risk assessments in part I of the questionnaire were appropriate and whether the EMAS content listed in parts II and III of the questionnaire were services that they considered important or that travelers mostly mentioned in clinical practice. Each item was evaluated on a scale of one (low) to five (high) for clarity and relevance to clinical practice, and items with a rating of at least four were included. After the process, we added the service of "medical consultation via instant messaging" and deleted "the transportation and transfer of medical supplies" in parts II and III of the questionnaire. We also used reliability analysis to test for internal consistency. Cronbach's alpha was 0.907 for items of importance and 0.945 for items of awareness and usage experience (see Additional file
1
).
The included socio-demographic characteristics were sex, age, education, medical history, trip destination, special activities during travel, and prior travel-related health problems. The other two parts of the questionnaire included the following components:
Attitude towards EMAS: This part examined the subjects' perceptions regarding the importance of nine different features of EMAS during travel as follows: (1) 24-h telephone medical advice, (2) instant messaging of medical advice, (3) arrangement of appointments at nearby hospitals, (4) arrangement of appointments with doctors, (5) medical record translation and transfer, (6) arrangement of hospital admission, (7) monitoring of medical conditions during hospitalization, (8) emergency medical repatriation, and (9) arrangement of appointments with doctors after travel. The scoring system used a five-point Likert Scale, ranging from "very unimportant" (1 point) to "unimportant" (2 points), "no comment" (3 points), "important" (4 points) and "very important" (5 points). Higher scores indicated positive attitudes regarding the need of certain services. Services with a score of 1 to 3 points were considered "not important" and those with a score of 4 to 5 points were considered "important."

Awareness and previous experience of EMAS: This part sought information on whether people had heard about the abovementioned nine different features of travel insurance services and whether they had experience using these services in the past.
Statistical analysis
Data management and statistical analysis were performed using SPSS17.0 statistical software (SPSS, Chicago, IL). Demographic data were represented by frequency distributions. Chi-square test was used to compare the proportions of the importance and awareness of EMAS between different socio-economic variables. A
P
value less than 0.05 was considered statistically significant. Missing data were excluded from analysis.
Results
A total of 615 patients who visited the travel clinic were given the questionnaire and 501 responded (effective response rate = 81.3%). The unbiased selection and high response rate represented good interval validity. After eliminating one incomplete questionnaire, 500 respondents were included in the final analysis (208 males and 292 females).
Discussion
Prior travel experience was an inclusion criterion in this study. Regarding the perceived importance and awareness of EMAS, we believe that compared to first-time travelers, more experienced travelers would be more aware of EMAS and would consider EMAS to be more important because of possible previous travel-associated illness experiences. However, our results demonstrated that even experienced travelers may lack an awareness of EMAS during travel. Therefore, there is a need for primary care providers and public health officials to incorporate travel medical assistance materials in pre-travel consultation and refine travel clinic practices and health policies.
Conclusions
The cross-sectional survey in a travel clinic clearly demonstrates that EMAS is necessary for international travelers. EMAS are considered important for most international travelers. However, approximately 20–30% of the travelers lacked an awareness of EMAS, and the percentage of travelers who had previously received medical assistance through these services is extremely low. Primary care physicians and travel medicine specialists are encouraged to offer more information about emergency medical assistance resources during pre-travel consultation, empowering travelers to manage their health throughout the trip.
Acknowledgements
We would like to thank Miss Chia-Chi Yu for her assistance in the study.
Funding
This study has been partially sponsored by the Centers for Disease Control, Taiwan (HZ102051).
Availability of data and materials
The datasets used and/or analyzed during the current study are available from the corresponding author on reasonable request.
Ethics approval and consent to participate
The design of the study and selection of subjects were approved by the Research Ethics Committee in National Taiwan University Hospital in Taiwan (201402078RINB) before the study was conducted.
Consent for publication
Not applicable.
Competing interests
The authors declare that they have no competing interests.
Publisher's Note
Springer Nature remains neutral with regard to jurisdictional claims in published maps and institutional affiliations.
Open Access
This article is distributed under the terms of the Creative Commons Attribution 4.0 International License (
http://​creativecommons.​org/​licenses/​by/​4.​0/​
), which permits unrestricted use, distribution, and reproduction in any medium, provided you give appropriate credit to the original author(s) and the source, provide a link to the Creative Commons license, and indicate if changes were made. The Creative Commons Public Domain Dedication waiver (
http://​creativecommons.​org/​publicdomain/​zero/​1.​0/​
) applies to the data made available in this article, unless otherwise stated.