01.12.2012 | Research article | Ausgabe 1/2012 Open Access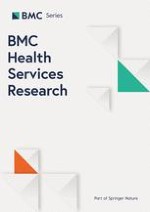 Attractiveness of employment sectors for physical therapists in Ontario, Canada (1999-2007): implication for the long term care sector
Zeitschrift:
Autoren:

Michel D Landry, Robyn Hastie, Känecy Oñate, Brenda Gamble, Raisa B Deber, Molly C Verrier
Wichtige Hinweise
Competing interests
The authors declare that they have no competing interests.
Authors' contributions
MDL designed the study, participated in the data collection, analyzed the data, and wrote successive drafts of the manuscript. RH, KO and BG conducted the majority of the data analysis, and reviewed successive drafts of the manuscript. RD and MCV both participated in the design of the study, and reviewed and revised successive drafts of the manuscript. All authors read and approved the final manuscript.
Abstract
Background
Recruiting and retaining health professions remains a high priority for health system planners. Different employment sectors may vary in their appeal to providers. We used the concepts of inflow and stickiness to assess the relative attractiveness of sectors for physical therapists (PTs) in Ontario, Canada. Inflow was defined as the percentage of PTs working in a sector who were not there the previous year. Stickiness was defined as the transition probability that a physical therapist will remain in a given employment sector year-to-year.
Methods
A longitudinal dataset of registered PTs in Ontario (1999-2007) was created, and primary employment sector was categorized as 'hospital', 'community', 'long term care' (LTC) or 'other.' Inflow and stickiness values were then calculated for each sector, and trends were analyzed.
Results
There were 5003 PTs in 1999, which grew to 6064 by 2007, representing a 21.2% absolute growth. Inflow grew across all sectors, but the LTC sector had the highest inflow of 32.0%. PTs practicing in hospitals had the highest stickiness, with 87.4% of those who worked in this sector remaining year-to-year. The community and other employment sectors had stickiness values of 78.2% and 86.8% respectively, while the LTC sector had the lowest stickiness of 73.4%.
Conclusion
Among all employment sectors, LTC had highest inflow but lowest stickiness. Given expected increases in demand for services, understanding provider transitional probabilities and employment preferences may provide a useful policy and planning tool in developing a sustainable health human resource base across all employment sectors.