01.08.2011 | Research article | Ausgabe 4/2011 Open Access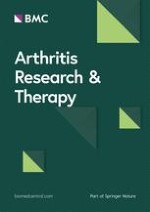 Atypical clinical presentation of a subset of patients with anti-RNA polymerase III - non-scleroderma cases associated with dominant RNA polymerase I reactivity and nucleolar staining
Zeitschrift:
Autoren:

Angela Ceribelli, Malgorzata E Krzyszczak, Yi Li, Steven J Ross, Jason YF Chan, Edward KL Chan, Rufus W Burlingame, Tyler T Webb, Michael R Bubb, Eric S Sobel, Westley H Reeves, Minoru Satoh
Wichtige Hinweise
Electronic supplementary material
The online version of this article (doi:
10.​1186/​ar3422
) contains supplementary material, which is available to authorized users.
Competing interests
RWB and TTW are employees of INOVA Diagnostics. All other authors have no competing interests.
Authors' contributions
MEK, YL, SJR, JYFC, EKLC, RWB, TTW and MS carried out the immunoassays. AC and MS designed the study. MS performed the statistical analysis. MRB, ESS and WHR enrolled patients for the study and maintained the database. AC, MS and EKLC drafted the manuscript. All authors read and approved the final manuscript.
Abstract
Introduction
Anti-RNA polymerase III (RNAP III) antibodies are highly specific markers of scleroderma (systemic sclerosis, SSc) and associated with a rapidly progressing subset of SSc. The clinical presentation of anti-RNAP III positive patients, onset of Raynaud's phenomenon (RP) and SSc in unselected patients in a rheumatology clinic were evaluated.
Methods
Autoantibodies in sera from 1,966 unselected patients (including 434 systemic lupus erythematosus (SLE), 119 SSc, 85 polymyositis/dermatomyositis (PM/DM)) in a rheumatology clinic were screened by radioimmunoprecipitation. Anti-RNAP III positive sera were also tested by immunofluorescence antinuclear antibodies and anti-RNAP III ELISA. Medical records of anti-RNAP III positive patients were reviewed.
Results
Among 21 anti-RNAP III positive patients, 16 met the American College of Rheumatology (ACR) SSc criteria at the initial visit but 5 did not; diagnoses were vasculitis, early polyarthritis, renal failure with RP, interstitial lung disease, and Sjögren's syndrome. The first two patients developed rapidly progressive diffuse SSc. An additional case presented with diffuse scleroderma without RP and RP developed two years later. Anti-RNAP III antibodies in these 6 cases of atypical clinical presentation were compared with those in 15 cases of typical (SSc with RP) cases. Anti-RNAP III levels by ELISA were lower in the former group (
P
= 0.04 by Mann-Whitney test) and 3 of 6 were negative versus only 1 of 15 negative in the latter (
P
< 0.05 by Fisher's exact test). Three cases of non-SSc anti-RNAP III positive patients had predominant reactivity with RNAP I with weak RNAP III reactivity and had a strong nucleolar staining. Three anti-RNAP III patients, who did not have RP at the initial visit, developed RP months later. Scleroderma developed prior to RP in 5 out of 16 (31%) in the anti-RNAP III group, but this was rare in patients with other autoantibodies. The interval between the onset of RP to scleroderma was short in anti-RNAP III positive patients.
Conclusions
Anti-RNAP III antibodies are highly specific for SSc; however, a subset of anti-RNAP III positive patients do not present as typical SSc. The interval between RP and scleroderma in this group is short, and 31% of patients developed scleroderma prior to RP in this group. Anti-RNAP III positive patients may not present as typical SSc and detecting anti-RNAP III may have predictive value.