01.12.2018 | Brief report | Ausgabe 1/2018 Open Access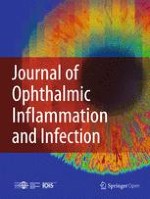 Atypical white dot syndrome with choriocapillaris ischemia in a patient with latent tuberculosis
Zeitschrift:
Autoren:

Sana Khochtali, Nesrine Abroug, Imen Ksiaa, Sourour Zina, Sonia Attia, Moncef Khairallah
Abstract
Background
White dot syndromes (WDS) are a group of idiopathic multifocal inflammatory conditions that can be recognized and distinguished by lesion morphology, other specific clinical features, imaging findings, and disease course. Our purpose is to describe an atypical case of WDS with choriocapillaris ischemia shown by multimodal imaging including swept-source OCT angiography (OCTA) in a 30-year-old woman with latent tuberculosis.
Findings
At presentation, visual acuity in the left eye was 20/500. Clinical findings included macular granularity, diffuse outer retinal discoloration with satellite yellow-white dots, and disc margin blurring. Fluorescein angiography showed early confluent areas of choroidal hypofluorescence and late perifoveal punctate hyperfluorescence. There was choroidal hypofluorescence in a geographic configuration throughout the indocyanine green angiography sequence. OCTA showed confluent geographic areas of loss of signal in the choriocapillaris. Work-up revealed latent tuberculosis. The patient received corticosteroids and prophylactic anti-tubercular treatment. Nine months later, visual acuity had improved to 20/20, and there were some residual retinal pigment epithelium changes.
Conclusion
Atypical WDS associated with choriocapillaris hypoperfusion may show features of multiple evanescent white dot syndrome and acute posterior multifocal placoid pigment epitheliopathy melting together.