01.12.2019 | Review article | Ausgabe 1/2019 Open Access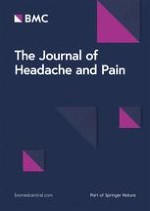 Aura and Head pain: relationship and gaps in the translational models
Zeitschrift:
Autoren:

Hayrunnisa Bolay, Doga Vuralli, Peter J. Goadsby
Wichtige Hinweise
Publisher's Note
Springer Nature remains neutral with regard to jurisdictional claims in published maps and institutional affiliations.
Abstract
Migraine is a complex brain disorder and initiating events for acute attacks still remain unclear. It seems difficult to explain the development of migraine headache with one mechanism and/or a single anatomical location. Cortical spreading depression (CSD) is recognized as the biological substrate of migraine aura and experimental animal studies have provided mechanisms that possibly link CSD to the activation of trigeminal neurons mediating lateralized head pain. However, some CSD features do not match the clinical features of migraine headache and there are gaps in translating CSD to migraine with aura. Clinical features of migraine headache and results from research are critically evaluated; and consistent and inconsistent findings are discussed according to the known basic features of canonical CSD: typical SD limited to the cerebral cortex as it was originally defined. Alternatively, arguments related to the emergence of SD in other brain structures in addition to the cerebral cortex or CSD initiated dysfunction in the thalamocortical network are proposed. Accordingly, including thalamus, particularly reticular nucleus and higher order thalamic nuclei, which functions as a hub connecting the visual, somatosensory, language and motor cortical areas and subjects to modulation by brain stem projections into the CSD theory, would greatly improve our current understanding of migraine.