01.12.2019 | Research | Ausgabe 1/2019 Open Access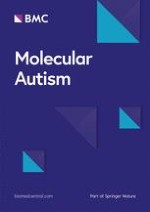 Autism spectrum disorders, endocrine disrupting compounds, and heavy metals in amniotic fluid: a case-control study
Zeitschrift:
Autoren:

Manhai Long, Mandana Ghisari, Lisbeth Kjeldsen, Maria Wielsøe, Bent Nørgaard-Pedersen, Erik Lykke Mortensen, Morsi W. Abdallah, Eva C. Bonefeld-Jørgensen
Wichtige Hinweise
Electronic supplementary material
Abbreviations
ADHD
Attention-deficit hyperactivity disorder
AhR
Aryl hydrocarbon receptor
AhR-tact
Aryl hydrocarbon receptor transactivity
AR-tact
Androgen receptor transactivity
CD-FCS
Charcoal-dextran-treated fetal calf serum
DMEM
Dulbecco's modified Eagle medium
DNHR
Danish National Hospital Register
DPCR
Danish Psychiatric Central Register
EDC-AEQ
EDC-induced androgenic effect
EDC-EEQ
EDC-induced estrogenic effect
EDCs
Endocrine disrupting compounds
ER-tact
Estrogen receptor transactivity
ICD
International Classification of Diseases
PBDE
Polybrominated diphenyl ether
PCA
Principal component analysis
PFAS
Perfluoroalkyl substances
PFBS
Perfluorobutane sulfonate
PFCA
Perfluorocarboxylated acids
PFDS
Perfluorodecane sulfonate
PFHpS
Perfluoroheptane sulfonate
PFHxS
Perfluorohexane sulfonate
PFOS
Perfluorooctane sulfonate
PFOSA
Perfluorooctane sulfonamide
PFPeA
Perfluoro-n-pentanoic acid
PFSA
Perfluorosulfonated acids
POP
Persistent organic pollutants
POSF
Perfluorooctanesulfonyl-fluoride
PPAR
Proliferator-activated receptor
TCDD
2, 3, 7, 8-Tetrachlorodibenzo-p-dioxin
TH-PE
Thyroid hormone-related proliferative effect
Background
The purpose of this study was using AF to (1) measure EDCs and elements including heavy metals, (2) determine the receptor transactivities induced by EDCs, and (3) perform a case-control study to investigate the hypothesis that in utero exposure to EDCs and heavy metals is associated with an increased risk for ASD. In addition, principle component analysis was used to identify the potential underlying components of substances in AF to explore the effect of substance mixture on ASD risk.
Methods
Results
Discussion
The present study measured the levels of elements/metals and POPs such as PFAS in AF and receptor transactivities induced by AF, and explored their association with diagnoses of child ASD. We detected PFOS and PFOA in more than 46% of the AF samples and As, Cd, and Pb in up to 34% of the AF samples, suggesting that in addition to blood borne in utero exposure, the fetus also ingests and is exposed to low levels of PFAS and heavy metals. However, the lipophilic POPs, such as PCBs, PBDEs, and OCPs, were not detectable in AF. The combined biomarkers of effect such as ER-, AR-, AhR-, and TH-like activity were determined in the AF samples, indicating the presence of EDCs in amniotic fluid. Compared to the controls, ASD cases showed a different pattern regarding the AF levels of PFAS, heavy metals, and receptor activities. Although it lacks robust, statistically significant associations between EDCs and ASD risk, this study suggests a role of prenatal exposure to EDCs on the risk of ASD. But further studies are needed, especially for their effect interfering with the function of, e.g., sex hormone receptors such as ER and AR.
In the present AF study, we observed the ratio of AR-AEQ/ER-EEQ was non-significantly positively associated with ASD risk. AR-AEQ/ER-EEQ represents the proportion of total combined androgenic effect contributed by androgen and EDCs to the total combined estrogenic effect contributed by endogenous estrogen and EDCs. Hence, it is worthy to further study whether EDCs play a role in the development of ASD together with endogenous hormones.
In the present study, we included congenital malformation cases in the data set. Given the genetic factors that contributed ASD, we performed the sensitive analysis by further adjustment of congenital malformation and excluding cases with congenital malformation. The results did not change significantly because congenital malformation of cases and non-cases did not have significantly different levels in the exposure variables of interest.
Conclusions and perspectives
The present study showed that environmental endocrine disrupting chemicals (EDCs), such as PFAS, some metals, and their biological activities can be detected in amniotic fluid, indicating that EDCs can cross the placenta and increase the potential fetal exposure to these environment contaminants. EDCs might modify ASD risk by influencing the hormone receptor function. The inverse association between PFAS levels and ASD risk might relate to a weak estrogenic activities and anti-androgenic activities of single PFAS congener observed in vitro. The observed tendency of positive association between the ratio of combined androgenic effect to the combined estrogenic effect and ASD risk needs further studies to explore the role of combined effect of EDCs together with endogenous hormones in the development of ASD. However, individual variability in genetic susceptibility can influence responses to environmental toxicants and contribute to increase disease vulnerabilities. Several studies have reported that some individuals with ASD express polymorphisms in genes involved in the detoxification of environmental pollutants and these genes have been termed "environmental response genes." More than 100 environmental response genes may contribute to ASD risk [
101
,
102
]. Therefore, it is necessary to study the role of gene polymorphisms and gene environment interaction in the development of ASD.
Acknowledgements
We thank members of the Centre for Arctic Health & Molecular Epidemiology research group, especially Tanja Krüger for technical and scientific support regarding the AR transactivation assay and Dorte Olsson for technical assistance. We thank Rossana Bossi and Gert Asmund for the measurement of PFAS and metals.
Funding
This study was funded by Aarhus University, Health Faculty, Aarhus, Denmark, and Statens Serum Institute, Copenhagen, Denmark, and Danish Research and Innovation Council (Project ID: 271-07-0385). The Historic Birth Cohort (HBC) is part of the Danish National Biobank supported by the Novo Nordisk Foundation.
Availability of data and materials
The data used in the study are available from the corresponding author upon reasonable request.
Ethics approval and consent to participate
The study was approved by the Steering Committee for Scientific Use of the Newborn Screening Biobank and the Danish Data Protection Agency (Record No. 2009-41-3173) as well as the Central Denmark Region Ethics Committee on Health Research (Record No. M-20090066). Since all data were obtained retrospectively in an anonymized manner, there was no need to obtain consent from any of the participants.
Consent for publication
Not applicable
Competing interests
The authors declare that they have no competing interests.
Publisher's Note
Springer Nature remains neutral with regard to jurisdictional claims in published maps and institutional affiliations.
Open Access
This article is distributed under the terms of the Creative Commons Attribution 4.0 International License (
http://​creativecommons.​org/​licenses/​by/​4.​0/​
), which permits unrestricted use, distribution, and reproduction in any medium, provided you give appropriate credit to the original author(s) and the source, provide a link to the Creative Commons license, and indicate if changes were made. The Creative Commons Public Domain Dedication waiver (
http://​creativecommons.​org/​publicdomain/​zero/​1.​0/​
) applies to the data made available in this article, unless otherwise stated.