03.11.2021 | Surgical Techniques | Ausgabe 6/2021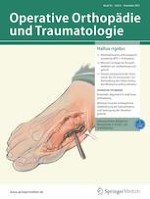 Autologous matrix-induced chondrogenesis plus peripheral blood concentrate (AMIC+PBC) in chondral defects of the first metatarsophalangeal joint
Zeitschrift:
Autor:

Prof. Dr. Martinus Richter
Wichtige Hinweise
Editor
Hazibullah Waizy, Hannover
Illustrator
Rüdiger Himmelhan, Mannheim
×
Scan QR code & read article online
Abstract
Objective
Chondral restoration in chondral defects of the 1st metatarsophalangeal joint (MTP1) using autologous matrix-induced chondrogenesis plus peripheral blood concentrate (AMIC+PBC).
Indications
Chondral defects MTP1.
Contraindications
Acute infection.
Surgical technique
Thigh tourniquet. Medial approach. Tenolysis of all tendons, arthrolysis, synovectomy. Bursectomy in case of bursitis. Resection osteophytes, optional cheilectomy. Debridement of chondral defects until surrounding cartilage stable. Microfracturing with 1.6 mm K‑wire. 15 cc peripheral venous blood harvested with double lumina syringe. Centrifugation (10 min, 1500 RPM). Aspiration of supernatant including the entire fluid layer directly above the erythrocyte layer (peripheral blood concentrate [PBC]). Chondro-Gide matrix was cut to size and impregnated in PBC 3 min (impregnation). Fixation of the matrix into the chondral defect with fibrin glue (AMIC+PBC). Joint motion to ensure stable fixation. Insertion drainage and wound infiltration catheter. Layer wise closure.
Postoperative management
Full weightbearing in a dressing shoe. Joint motion exercise starting at the day of surgery.
Results
The aim of the study was to compare matrix-associated stem cell transplantation (MAST) with AMIC+PBC. Patients who were treated with MAST from October 1, 2011 to July 15, 2016 (
n
 = 623) or with AMIC+PBC from July 17, 2016 to March 19, 2018 (
n
 = 230) were included. In all, 480 (89%)/176 (89%) patients (MAST/AMIC+PBC) completed 2‑year follow-up. The average degree of osteoarthritis was 2.1/2.2. The chondral defect size was 0.9/1.0 cm
2
on average. Visual Analogue Scale Foot and Ankle (VAS FA) and European Foot and Ankle Society score (EFAS score) improved to 72.4/74.1//16.8/17.1 (MAST//AMIC+PBC) at follow-up, respectively. No parameter significantly differed between the MAST and AMIC+PBC cohorts.