12.02.2019 | Original Paper | Ausgabe 6/2019 Open Access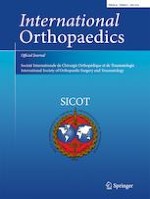 Autologous mesenchymal stem cell implantation, hydroxyapatite, bone morphogenetic protein-2, and internal fixation for treating critical-sized defects: a translational study
Zeitschrift:
Autoren:

Ismail Hadisoebroto Dilogo, Phedy Phedy, Erica Kholinne, Yoshi Pratama Djaja, Jessica Fiolin, Yuyus Kusnadi, Nyimas Diana Yulisa
Wichtige Hinweise
Level of evidence: Therapeutic Level II
Publisher's note
Springer Nature remains neutral with regard to jurisdictional claims in published maps and institutional affiliations.
Abstract
Introduction
Critical-sized defect (CSD) is one of the most challenging cases for orthopaedic surgeons. We aim to explore the therapeutic potential of the combination of bone marrow-derived mesenchymal stem cells (BM-MSCs), hydroxyapatite (HA) granules, bone morphogenetic protein-2 (BMP-2), and internal fixation for treating CSDs.
Methods
This was a translational study performed during the period of January 2012 to 2016. Subjects were patients diagnosed with CSDs who had previously failed surgical attempts. They were treated with the combination of autologous BM-MSCs, HA granules, BMP-2, and mechanical stabilization. Post-operative pain level, functional outcome, defect volume, and radiological healing were evaluated after a minimum follow-up of 12 months.
Results
A total of six subjects were recruited in this study. The pain was significantly reduced in all cases; with the decrease of mean preoperative visual analog scale (VAS) from 4 ± 2.2 to 0 after six month follow-up. Clinical functional outcome percentage increased significantly from 25 ± 13.7 to 70.79 ± 19.5. Radiological healing assessment using Tiedemann score also showed an increase from 0.16 ± 0.4 to 8 ± 3 at one year follow-up. No immunologic nor neoplastic side effects were found.
Conclusions
The combination of autologous BM-MSCs, HA granules, and BMP-2 is safe and remains to be a good option for the definitive treatment for CSD with previous failed surgical attempts. Further studies with a larger sample size are required to be done.