01.12.2015 | Research article | Ausgabe 1/2015 Open Access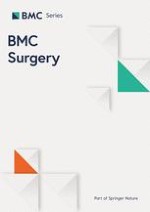 Autotransplantation of parathyroid grafts into the tibialis anterior muscle after parathyroidectomy: a novel autotransplantation site
Zeitschrift:
Autoren:

Chrysanthi Anamaterou, Matthias Lang, Simon Schimmack, Gottfried Rudofsky, Markus W. Büchler, Hubertus Schmitz-Winnenthal
Wichtige Hinweise
Competing interests
The authors declare that they have no competing interests.
Authors' contributions
CA recruited and consulted the participants in the outpatient clinic, performed the Casanova-tests, ultrasonography and the further examinations, statistical analysis and wrote the manuscript. ML contributed to patient recruitment, performed ultrasonography and reviewed the manuscript. SS, GR and MWB reviewed and edited the manuscript. HSW as principal investigator was responsible for study design, concept, analyses and writing of the manuscript. All authors read and approved the final manuscript.
Abstract
Background
Surgical management of renal secondary hyperparathyroidism (sHPT) is varying. Total parathyroidectomy with heterotopic autotransplantation (TPTX + AT) is one of the standard surgical procedures in sHPT, but there is no consensus about the optimal site for graft insertion. At the surgical department of the University Hospital of Heidelberg we prefer the autotransplantation into the tibialis anterior muscle. The aim of this study was to assess the long-term function of the auto-transplanted parathyroid tissue in this type of surgical procedure.
Methods
The function of the autograft of 42 patients was assessed 8.2 ± 2.5 years after surgery, using a modified Casanova-test of the leg bearing the parathyroid tissue. Ischemic blockage was induced by tourniquet and the levels of parathyroid hormone (PTH) were assessed during the test.
Results
At the point of assessment, the ischemic blockage led to a significant reduction in the concentration of PTH (≥50 % of the baseline value) in 19 patients (45 %) indicating well-functioning autografts. In 11 patients (26 %), ischemic blockage did not cause any change in the concentration of PTH (≤20 % of the baseline value), indicating functioning residual parathyroid tissue from another site. The source of PTH production was classified as unidentifiable in five patients (12 %). Two patients had developed graft-dependent recurrent HPT (5 %) without therapeutic consequences and three patients suffered from persistent symptomatic hypoparathyroidism (7 %).
Conclusions
These results indicate that TPTX + AT into the tibialis anterior muscle is a successful surgical treatment for renal HPT and that the modified Casanova-test is a suitable diagnostic tool for autografts function.