01.12.2017 | Research | Ausgabe 1/2017 Open Access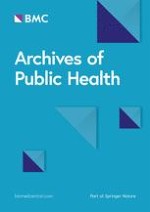 Availability of adequately iodized in Northwest Ethiopia: a cross-sectional study
Zeitschrift:
Autoren:

Zegeye Abebe, Amare Tariku, Ejigu Gebeye
Abstract
Background
Universal salt iodization is the most cost-effective, safe and sustainable strategy to eliminate iodine deficiency disorders. However, little is known about the availability of adequately iodized salt in the northwestern part of Ethiopia. Thus, the aim of this study was to assess the availability of adequately iodized salt at the household level and associated factors in Dabat District, northwest Ethiopia.
Methods
A community-based cross-sectional study was conducted from February 21 to March 31, 2016. We included 705 households in the study. A stratified multistage followed by simple random sampling technique was employed to select households. The level of salt iodine content was determined using the rapid field test kit. Accordingly, the value of <15 parts per million (PPM) and ≥15 PPM with the corresponding color chart on the rapid test kit were used to classify the level of iodine content in the sampled salt. A multivariable binary logistic regression model was fitted to identify factors associated with the availability of adequately iodized salt. Adjusted Odds Ratio (AOR) with the corresponding 95% Confidence Interval (CI) was calculated to show the strength of association.
Results
This study indicated that about 33.2% [95% CI: 29.6, 36.7%] of households had adequately iodized salt. Urban residence (AOR = 2.15, 95% CI: 1.23, 3.76), use of packed salt (AOR = 2.23, 95% CI: 1.01, 4.89), and good respondents' knowledge on iodized salt use (AOR = 1.49, 95% CI: 1.08, 2.08) were positively associated with the availability of adequately iodized salt. However, longer distance to buy salt was inversely related with availability of adequately iodized salt (AOR = 0.68, 95% CI: 0.48, 0.99).
Conclusions
The availability of iodized salt is well under the WHO recommendation in Dabat District in spite of the fact that Ethiopia has been implementing universal salt iodization since the last five years. Therefore, intensifying strategies targeting to enhance community awareness on the benefit and handling practice of iodized salt is essential to improve availability of iodized salt. In addition, the focus needs to be on improving accessibility of iodized salt.