01.12.2017 | Research | Ausgabe 1/2017 Open Access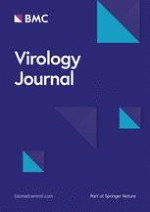 Avian influenza H9N2 virus isolated from air samples in LPMs in Jiangxi, China
Zeitschrift:
Autoren:

Xiaoxu Zeng, Mingbin Liu, Heng Zhang, Jingwen Wu, Xiang Zhao, Wenbing Chen, Lei Yang, Fenglan He, Guoyin Fan, Dayan Wang, Haiying Chen, Yuelong Shu
Wichtige Hinweise
Electronic supplementary material
The online version of this article (doi:
10.​1186/​s12985-017-0800-y
) contains supplementary material, which is available to authorized users.
Abstract
Background
Recently, avian influenza virus has caused repeated worldwide outbreaks in humans. Live Poultry Markets (LPMs) play an important role in the circulation and reassortment of novel Avian Influenza Virus (AIVs). Aerosol transmission is one of the most important pathways for influenza virus to spread among poultry, from poultry to mammals, and among mammals.
Methods
In this study, air samples were collected from LPMs in Nanchang city between April 2014 and March 2015 to investigate possible aerosol transmission of AIVs. Air samples were detected for Flu A by Real-Time Reverse Transcription-Polymerase Chain Reaction (RRT-PCR). If samples were positive for Flu A, they were inoculated into 9- to 10-day-old specific-pathogen-free embryonated eggs. If the result was positive, the whole genome of the virus was sequenced by MiSeq. Phylogenetic trees of all 8 segments were constructed using MEGA 6.05 software.
Results
To investigate the possible aerosol transmission of AIVs, 807 air samples were collected from LPMs in Nanchang city between April 2014 and March 2015. Based on RRT-PCR results, 275 samples (34.1%) were Flu A positive, and one virus was successfully isolated with embryonated eggs. The virus shared high nucleotide homology with H9N2 AIVs from South China.
Conclusions
Our study provides further evidence that the air in LPMs can be contaminated by influenza viruses and their nucleic acids, and this should be considered when choosing and evaluating disinfection strategies in LPMs, such as regular air disinfection. Aerosolized viruses such as the H9N2 virus detected in this study can increase the risk of human infection when people are exposed in LPMs.