29.04.2020 | Clinical Study | Ausgabe 2/2020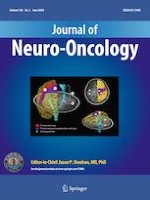 Awake craniotomy for gliomas involving motor-related areas: classification and function recovery
Zeitschrift:
Autoren:

Shengyu Fang, Yiming Li, Yinyan Wang, Zhong Zhang, Tao Jiang
Wichtige Hinweise
Electronic supplementary material
Dr. Yinyan Wang, Zhong Zhang and Tao Jiang were equal corresponding to this manuscript.
Publisher's Note
Springer Nature remains neutral with regard to jurisdictional claims in published maps and institutional affiliations.
Abstract
Purpose
Motor mapping with direct cortical stimulation (DCS) is useful for motor function preservation. Nevertheless, many patients still experience postoperative motor dysfunction after motor mapping. This study aimed to provide a classification of gliomas involved in motor-related areas to help understand which types of gliomas are prone to induce postoperative motor impairments.
Methods
Sixty-four patients were retrospectively recruited. Based on tumor location, four types of gliomas were identified: (I) precentral gyrus; (II) premotor and/or supplementary motor areas but not invading pre-central gyrus; (III) adjacent to the posterior limb of the internal capsule; and (IV) other supra-tentorial area. The recovery of motor function was evaluated by muscle strength testing before surgery and 3 days, 7 days, 14 days, and 3 months after surgery.
Results
Half of the patients experienced postoperative transient motor impairment within a week. Six patients suffered from permanent motor dysfunction, and four of them had type III glioma. Compared with types I and IV, patients with type III gliomas took more than three times as long to recover. Furthermore, patients with types I and II gliomas were more susceptible to preoperative epilepsy than those with types III and IV. There was no difference in postoperative seizure control between the four types.
Conclusions
Our classification of gliomas involving motor-related eloquent areas was useful for predicting postoperative motor functional prognosis in patients who underwent motor mapping with DCS. Even if no positive sites were detected, a conservative strategy of tumor resection is recommended in cases that gliomas located close to the posterior limb of the internal capsule.