01.12.2017 | Research article | Ausgabe 1/2017 Open Access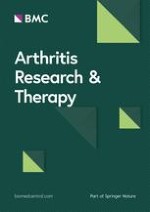 B cell epitope of human cytomegalovirus phosphoprotein 65 (HCMV pp65) induced anti-dsDNA antibody in BALB/c mice
Zeitschrift:
Autoren:

Ao HoHsieh, Chin Man Wang, Yeong-Jian Jan Wu, Albert Chen, Ming-I Chang, Ji-Yih Chen
Wichtige Hinweise
Electronic supplementary material
The online version of this article (doi:
10.​1186/​s13075-017-1268-2
) contains supplementary material, which is available to authorized users.
Abstract
Background
HCMV phosphoprotein 65 (HCMVpp65) is a putative immunogen that acts as an accelerator, inducing autoantibody and exacerbating autoimmune response in susceptible animals. The immunity to pp65336-439 instigates autoimmunity, suggesting that pp65336-439 contains crucial B cell epitope(s) for the development of nephritis. This study narrowed down the target epitope to pp65422-439 for immunization of BALB/c mice and mapping of B cell epitope.
Methods
The target epitope pp65422-439 reactivity and B cell epitope mapping was examined in serum from pp65422-439-immunized mice and patients with systemic lupus erythematosus (SLE). Kidney tissue from immunized mice was examined for signs of immune complex nephritis.
Results
Anti-pp65
422-439
antibody in serum either from patients with SLE or from pp65
422-439
-immunized mice exhibited cross-reactivity to several nuclear components such as double-stranded DNA (dsDNA). Moreover, the pp65
422-439
-immunized mice developed initial signs of glomerulonephritis such as deposition of immunoglobulin G/M (IgG/IgM) and third complement component (C3). With B cell epitope mapping by pp65
422-439
-derived decapeptides, one dominant epitope, pp65
428-437
, was identified in serum from pp65
422-439
-immunized mice and patients with SLE with anti-pp65
422-439
antibody. Epitope spreading from pp65
428-437
to pp65
430-439
was found in pp65
422-439
-immunized mice in which we generated monoclonal antibodies to pp65
425-434
and pp65
430-439
. However, dsDNA positive reactivity was exclusively observed in
Crithidia luciliae
stains with pp65
430-439
-reactive monoclonal antibody. Additionally, we observed the amelioration of autoimmunity following the elevation of IgM targeting pp65
428-437.
Conclusions
Our data suggest that pp65428-437 may be an autoimmune or lupus-prone B cell epitope and may catalyze further epitope spreading for inducing autoantibodies in lupus-susceptible individuals.