01.12.2018 | Research article | Ausgabe 1/2018 Open Access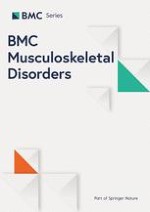 BADGE, a synthetic antagonist for PPARγ, prevents steroid-related osteonecrosis in a rabbit model
Zeitschrift:
Autoren:

Na Yuan, Jia Li, Meng Li, Wenchen Ji, Zhaogang Ge, Lihong Fan, Kunzheng Wang
Abstract
Background
It was indicated that inhibition of PPARγ probably represents a novel therapy for steroid-related osteonecrosis. In this study, we investigated the preventive effects of PPARγ inhibition on steroid-related osteonecrosis in a rabbit model.
Methods
Rabbits were randomly divided into three groups (normal group, model group and BADGE group). Osteonecrosis was induced in rabbits in the model group and the BADGE group. The BADGE group also received bisphenol a diglycidyl ether(BADGE), a PPARγ antagonist, for 6 weeks.
Results
Histopathological results indicated that rabbits treated with BADGE exhibited significantly reduced osteonecrotic changes, incidence of osteonecrosis and bone marrow adiposity. Furthermore, BADGE-treated rabbits exhibited reduced intraosseous pressure and increased femoral blood perfusion. Micro-computed tomography and bone histomorphometry indicated that the BADGE group exhibited significantly improved bone quality and mineral appositional rate compared with the model group. Furthermore, the BADGE group showed a significant increase in circulating levels of the bone formation marker osteocalcin and reduced levels of the bone resorption marker TRACP. Overall, BADGE-treated rabbits exhibited reduced marrow adiposity concomitant with improved bone formation.
Conclusions
In conclusion, these observations demonstrated that pharmacological inhibition of PPARγ might represent an effective therapy for steroid-related osteonecrosis in the near future.