06.03.2019 | Clinical Investigation | Ausgabe 6/2019 Open Access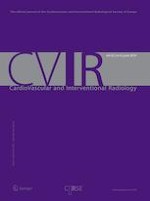 Balloon-Occluded Transcatheter Arterial Chemoembolization (b-TACE) for Hepatocellular Carcinoma Performed with Polyethylene-Glycol Epirubicin-Loaded Drug-Eluting Embolics: Safety and Preliminary Results
Zeitschrift:
Autoren:

Pierleone Lucatelli, Luca Ginnani Corradini, Gianluca De Rubeis, Bianca Rocco, Fabrizio Basilico, Alessandro Cannavale, Pier Giorgio Nardis, Mario Corona, Luca Saba, Carlo Catalano, Mario Bezzi
Wichtige Hinweise
Pierleone Lucatelli, Luca Ginnani Corradini and Gianluca De Rubeis have equally contributed to the manuscript.
Publisher's Note
Springer Nature remains neutral with regard to jurisdictional claims in published maps and institutional affiliations.
Abstract
Purpose
To report technical success, safety profile and oncological results of balloon-occluded transcatheter arterial chemoembolization using a balloon micro-catheter and epirubicin-loaded polyethylene-glycol (PEG) microsphere (100 ± 25 µm and 200 ± 50 µm) in patients with hepatocellular carcinoma (HCC).
Materials and Methods
This is a single-centre, single-arm, retrospective study with 6-month follow-up. Twenty-two patients (Child–Pugh A 68% [15/22], B in 32% [7/22]; age 67.05 ± 14 years) with 29 HCC were treated in 24 procedures. Technical success is defined: ability to place the balloon micro-catheter within the required vascular segment, balloon-occluded arterial stump pressure drops and assessment of microsphere deposition. Laboratory assessment pre/post-procedural and complications were analysed, respectively, according to Common Terminology Criteria for Adverse Events (CTCAEv5) and CIRSE system. Postembolization syndrome (PES) was defined as fever and/or nausea and/or pain onset. Oncological results were evaluated using m-RECIST criteria with CT/MRI imaging at 1 and 3–6 months. In partial responder patients, pre/post-procedural tumour volume was compared.
Results
Pre-planned feeder was reached in all cases. Pressure drop average was 51.1 ± 21.6 mmHg. Exclusive target embolization was achieved in 14/24 procedures (58.3%). Laboratory test modifications were all grade 1. 4/24 adverse events occurred (17%): pseudo-aneurysm of the feeder (grade 3), liver abscess (grade 2) and 2 asymptomatic segmentary biliary tree dilatations (grade 2). PES occurred in 8/24 (33%). The complete response at 1 and 3–6 months was 44.8% (13/29) and 52.9% (9/17), respectively. The partial response at 1 and 3–6 months was 55% (16/29) and 4/17 (23.5%), respectively. Among partial responder patients, the average percentage of tumour volume reduction was 64.9 ± 27.3%.
Conclusion
Epirubicin-loaded PEG microsphere b-TACE is technically feasible, safe and effective procedure for HCC treatment.