27.02.2020 | Original Article | Ausgabe 3/2020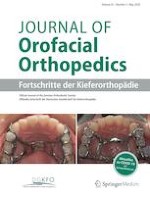 Banded versus modified appliances for anchorage during maxillary protraction
Autoren:

MD, PhD Chunyan Liu, MA Xing Qiao, MA Shilong Zhang, MD, PhD Wensheng Ma, MD, PhD Wen Wang, MA Xiaolei Ge, MD, PhD Xiaoying Hu, MA Wenjing Kang, MD, PhD Haiyan Lu
Abstract
Introduction
The aim of this study was to compare banded versus modified appliances for anchorage during maxillary protraction in Class III malocclusions.
Patients and methods
The sample size consisted of 40 growing patients with Class III maxillary deficiency: 20 patients received maxillary protraction with a modified appliance and 20 patients with a banded appliance. Pre- and posttreatment cephalometric radiographs of all subjects were obtained and analyzed. The paired t‑test and Wilcoxon ranks test were used for statistical analysis.
Results
The patients in the modified appliance group needed fewer appointments and shorter treatment time than those in the banded appliance group. The modified appliance was superior to the banded appliance with respect to simple structure, comfort, retention, and convenience in maintaining oral hygiene. The modified appliance was as effective as the banded appliance in correcting the Class III malocclusion. However, a greater increase was found in mandibular plane angle, anterior facial height, total facial height, mesialization of maxillary molars, and proclination of maxillary incisors in the banded appliance group compared with that in the modified appliance group (
P
 < 0.05).
Conclusions
The newly developed modified appliance may be a promising approach in treating growing Class III patients with maxillary deficiency, which could decrease treatment time, increase treatment efficiency, and reduce anchorage loss.