01.12.2018 | Research article | Ausgabe 1/2018 Open Access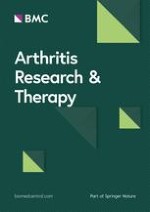 BANK1 alters B cell responses and influences the interactions between B cells and induced T regulatory cells in mice with collagen-induced arthritis
Zeitschrift:
Autoren:

Jie Yang, Jie Ren, Yiming Yang, Juan Sun, Xiaohui Zhou, Shucong Zheng, Dandan Xuan, Yu Xue, Huimin Fan, Jiong Zhang, Hejian Zou, Weiguo Wan, Ning Kong
Abstract
Background
Functional variants of the B cell gene, B cell scaffold protein with ankyrin repeats 1 (BANK1) contribute to rheumatoid arthritis (RA) susceptibility, but their influences on B cell responses are unclear. Moreover, the function of induced T regulatory cells (iTregs) in the inflammatory milieu in a collagen-induced arthritis (CIA) model is unknown. This study was performed to investigate the roles of BANK1 in CIA and the interaction between B cells and iTregs.
Methods
The changes in BANK1 mRNA and protein levels and their correlation with disease severity in CIA were determined. Next, the antigen-presenting function and autoantibody production in B cells were evaluated by co-culture with effector T cells and iTregs, respectively, both in vitro and in vivo. Then, the mechanisms underlying these interactions were studied by adding neutralizing antibodies or transwell inserts and by adoptive transfer to B-cell-depleted CIA mice.
Results
The BANK1 level decreased in the peripheral blood, spleen and lymph nodes of CIA mice, particularly during the acute stage of arthritis, and exhibited negative correlation with disease severity and autoantibody production. B cell responses were enhanced by this decrease. B cells from CIA mice (CIA-B cells) promoted iTreg differentiation, proliferation and cytotoxic T lymphocyte-associated protein-4 (CTLA-4) expression. Meanwhile, BANK1 expression in CIA-B cells increased after co-culture with iTregs, limiting B cell responses. All these interactions depended on cell contact with CTLA-4-overexpressing iTregs but were independent of CTLA-4 cytokine.
Conclusion
Decreased BANK1 expression promotes B cell responses, resulting in an increased antigen presentation ability and autoantibody production that subsequently influences the communication between B cells and iTregs through a cell-contact-dependent and CTLA-4- cytokine-independent mechanism in CIA mice.