01.01.2012 | 2011 SSAT Plenary Presentation | Ausgabe 1/2012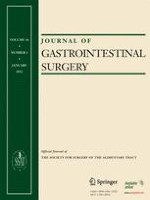 Bariatric Surgery Outcomes in the Elderly: An ACS NSQIP Study
Zeitschrift:
Autoren:

Robert B. Dorman, Anasooya A. Abraham, Waddah B. Al-Refaie, Helen M. Parsons, Sayeed Ikramuddin, Elizabeth B. Habermann
Wichtige Hinweise
Plenary session (V) at the Society for Surgery of the Alimentary Tract, Digestive Disease Week, May 9, 2011, Chicago, IL, USA
Dr. Bruce D. Schirmer (Charlottesville, VA):
I congratulate Dr. Dorman and his coauthors from the University of Minnesota for doing this excellent analysis of the effect of age on outcomes after bariatric surgery. The NSQIP database from 2005–2009 provides an excellent source of procedure-specific outcomes information for the immediate postoperative period. The findings of this study are important for two reasons. First, they substantiate the performance of the occasional bariatric operation on an individual greater than age 65. By 2009, that represented nearly 5% of the operations reported. Insurance companies have not, to my knowledge, yet denied payment based on age, and this report should abort any such potential action. Second, this is yet another large review of a high quality database that confirms the overall 30-day mortality of bariatric surgery procedures to be incredibly low, given the patient population which is undergoing surgery. The overall mortality rate of 0.15% in this series is indeed a remarkable attestation to the significant strides the bariatric surgery community has made toward patient safety and optimal outcomes during the last decade. I think this study will be a frequently cited one going forward when one discusses the safety of bariatric surgery.
Much of the findings of the study, however, are not new and are predictable. This paper confirms that higher BMI, male sex, significant comorbidities, and age to some extent, predict less good outcomes. The age factor was not significant alone, but there was a clear trend toward increased morbidity and mortality. The study does reflect that most surgeons who would consider, for whatever individual reason, performing bariatric operations on patients older than 65 at least do a lap band for more than half those cases. When one looks at the incredibly high incidence of comorbid medical problems in the age 70 and over patient population, one must wonder what particular motivation a surgeon would have for performing bariatric surgery, and in particular open bypass or duodenal switch, in this group. Although sparse, the data suggest this is not a wise course of action.
I have two questions for the authors:
1. Given the remarkable improvement in bariatric surgical outcomes over the past decade, does your study encourage procedures that may decrease optimal outcomes for bariatric surgery in the future by encouraging its performance in older and higher risk patients?
It has been estimated that a person with a BMI of over 40 at age 21 will live 12 years longer as a male and 9 years longer as a female if they undergo bariatric surgery than if they do not. What long-term benefit do you estimate exists for the 65- or even 70-year-old patient to undergo bariatric surgery? Have you any estimate or are you aware of any data on the number of quality life years saved by doing the procedure at this age?
Dr. Robert B. Dorman:
We appreciate these very insightful comments that raise important concerns regarding policy implication. As it relates to this study we are not recommending that elderly patients undergo bariatric surgery. Instead, we are reporting that they are undergoing bariatric surgery, a greater proportion of elderly patients are undergoing bariatric surgery in 2009 compared to 2005, and that age >65 years is not a significant predictor of perioperative mortality or major adverse events. This study provides an important tool for patients and providers to assess the perioperative risk associated with bariatric surgery in all patients, but it places a particular focus on those greater than 65 years old. As patients over the age of 65 years are very likely to continue to present at surgical centers for evaluation, providers and payers will need the tools to assess the perioperative safety in this growing patient population. Patient selection is a complex and inexact process. This study will provide us with the data necessary to not exclude patients from bariatric surgery based on age alone.
In fact, operating on a greater number of patients over the age of 65 years may worsen overall outcomes for the bariatric population, but we believe patients over 65 years should continue to be considered separately from those of younger age. As the Discussant mentions, our results were ultimately not significant for predicting mortality although the trend toward significance should not be ignored. The lack of significance could be related to the overall low number of deaths. As the database continues to be populated there is a possibility that age over 65 years will predict mortality and/or major adverse events as the total number of adverse events increases. This warrants investigation in the future as the database continues to grow and procedures evolve.
There is no data on long-term outcomes for patients who are 65 years or older at the time of their primary bariatric operation. Thus, we have included in our manuscript several short-term studies that follow elderly patients for up to 1 year, and the findings support significant improvements in BMI, comorbid illnesses, medication use, and quality of life. While these effects were not as significant as those experienced in younger patients, they were still significant. The population in the USA is living longer, and they are also required to work longer. While no data exist investigating quality of life years saved in this patient population, there is an opportunity here to reduce disease burden in this age group allowing them to continue to be productive members of society.
Abstract
Introduction
Mortality and complications following bariatric surgery occur at acceptable rates, but its safety in the elderly population is unknown. We hypothesized that short-term operative outcomes in bariatric surgery patients ≥65 years would be comparable to younger persons.
Methods
Patients with a body mass index ≥35 kg/m2 who underwent bariatric surgery in the 2005–2009 American College of Surgeons National Surgical Quality Improvement Program were identified. Controlling for confounders, multivariate regression was used to predict the impact of age on mortality, major events and prolonged length of stay at 30 days.
Results
We identified 48,378 patients who underwent bariatric procedures between 2005 and 2009. Multivariate regression analysis demonstrated advancing age trended towards predicting mortality, but was not statistically significant. Additionally, patients ≥65 years did not experience higher risk of major complications for either open or laparoscopic procedures. However, patients age ≥65 years were more likely to experience prolonged length of stay for both open and laparoscopic procedures.
Conclusion
This multi-hospital study demonstrates older age predicts short-term prolonged length of stay but not major events following bariatric surgery. Older age trends toward predicting mortality, but it is not statistically significant.