03.07.2020 | Original Contributions | Ausgabe 11/2020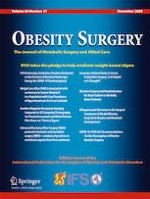 Bariatric Surgical Simulation: Evaluation in a Pilot Study of SimLife, a New Dynamic Simulated Body Model
Zeitschrift:
Autoren:

J. Danion, G. Donatini, C. Breque, D. Oriot, J. P. Richer, J. P. Faure
Wichtige Hinweise
Publisher's Note
Springer Nature remains neutral with regard to jurisdictional claims in published maps and institutional affiliations.
Abstract
Background
The demand for bariatric surgery is high and so is the need for training future bariatric surgeons. Bariatric surgery, as a technically demanding surgery, imposes a learning curve that may initially induce higher morbidity. In order to limit the clinical impact of this learning curve, a simulation preclinical training can be offered. The aim of the work was to assess the realism of a new cadaveric model for simulated bariatric surgery (sleeve and Roux in Y gastric bypass).
Aim
A face validation study of SimLife, a new dynamic cadaveric model of simulated body for acquiring operative skills by simulation. The objectives of this study are first of all to measure the realism of this model, the satisfaction of learners, and finally the ability of this model to facilitate a learning process.
Methods
SimLife technology is based on a fresh body (frozen/thawed) given to science associated to a patented technical module, which can provide pulsatile vascularization with simulated blood heated to 37 °C and ventilation.
Results
Twenty-four residents and chief residents from 3 French University Digestive Surgery Departments were enrolled in this study. Based on their evaluation, the overall satisfaction of the cadaveric model was rated as 8.52, realism as 8.91, anatomic correspondence as 8.64, and the model's ability to be learning tool as 8.78.
Conclusion
The use of the SimLife model allows proposing a very realistic surgical simulation model to realistically train and objectively evaluate the performance of young surgeons.