10.07.2018 | Systematic Review | Ausgabe 4/2018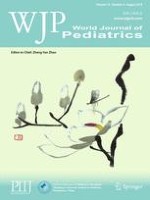 Barrett's esophagus in children: what is the evidence?
Zeitschrift:
Autoren:

Maja Raicevic, Amulya K. Saxena
Wichtige Hinweise
Electronic supplementary material
Abstract
Background
This study systematically reviewed etiology, prevalence, treatment and outcome of Barrett's esophagus (BE) in the pediatric population.
Methods
PubMed® was searched for terms "Barrett's esophagus" and "children". End points were age of patients, etiology, association with other syndromes, treatment, incidence of carcinoma and outcome. This review was conducted according to the PRISMA guidelines. Data were collected, entered and analyzed into a Microsoft Excel® spreadsheet database.
Results
Search revealed 278 articles published between 1984 and 2017, of which 18 met the inclusion criteria. There were 130 patients for analysis with a mean age 10.6 years (0.8–17.2 years). BE was diagnosed in 80 patients with confirmed gastroesophageal reflux (GER) only; further 20 patients were neurologically impaired and had GER, 13 after esophageal atresia (EA) with or without tracheoesophageal fistula (TEF) repair with associated GER, 6 post-chemotherapy, 1 after post caustic burns, 1 after esophageal replacement with stomach, 1 after peptic esophageal stricture, 1 with secretory diarrhea, 1 with Fanconi anemia, 1 tetralogy of Fallot, and 5 healthy children. Regarding treatment, 26 were on medical treatment only, 16 had surgeries combined with medical treatment, 80 patients underwent surgery only, 1 was on diet management, 4 were on surveillance only and 2 were never treated for BE as death occurred because of associated conditions. Fundoplication was the most commonly performed surgery (82.2%). Adenocarcinoma was found in one 23-year-old patient. Mean follow-up was 3.45 years (10 months–13 years) and long-term outcome showed recurrences in 8 and esophago-mediastinal fistula and proximal esophagus ulcer in 1. There were 7 lethal outcomes which were not directly associated with BE.
Conclusions
Although BE is considered a premalignant condition; incidence of carcinoma in pediatric population is low. Long-term follow-up with endoscopies and biopsies seems to be advisable for BE evidence and malignant alterations.