05.05.2016 | Original Article | Ausgabe 10/2016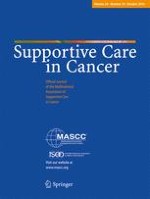 Barriers and facilitators to endocrine therapy adherence among underserved hormone-receptor-positive breast cancer survivors: a qualitative study
Zeitschrift:
Autoren:

Kristen J. Wells, Tonya M. Pan, Coralia Vázquez-Otero, Danielle Ung, Amy E. Ustjanauskas, Dariana Muñoz, Christine Laronga, Richard G. Roetzheim, Marissa Goldenstein, Claudia Carrizosa, Sumayah Nuhaily, Kenneth Johnson, Marilyn Norton, Elizabeth Sims, Gwendolyn P. Quinn
Abstract
Purpose
To evaluate the barriers and facilitators to taking anti-hormonal medications among medically and historically underserved breast cancer survivors within the first 5 years post chemotherapy, radiation, and/or surgery.
Methods
The current study was framed within the National Institutes of Health Centers for Population Health and Health Disparities Model (NIHCPHHD Model). Twenty-five historically or medically underserved breast cancer survivors participated in an in-depth interview, in either English or Spanish. Interviews were audio recorded and transcribed verbatim. Interview data were analyzed using content analysis.
Results
Anti-hormonal medication adherence was facilitated in several ways, including establishing a routine of medication taking, leaving the medicine in a visible or easily accessible place, taking the medication with other medications, reducing the cost of medicine, using a pillbox, understanding the negative consequences of lack of adherence, and having positive interactions with physicians. Side effects were the most commonly mentioned barrier to medication adherence.
Conclusions
Similar to other research, this qualitative study of medically and historically underserved breast cancer survivors in the USA found that side effects are the most frequently endorsed barrier to anti-hormonal medication adherence. Conversely, there were a number of facilitators of correct and consistent anti-hormonal medication use. The management of side effects is critically important to increase adherence to anti-hormonal medications. Health care providers, support providers, and caregivers can encourage breast cancer survivors to better adhere to anti-hormonal medications using a number of approaches that have been successful for other women.