01.12.2017 | Research article | Ausgabe 1/2017 Open Access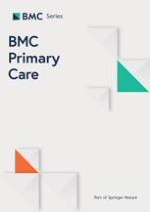 Barriers and facilitators to use of non-pharmacological treatments in chronic pain
Zeitschrift:
Autoren:

William C. Becker, Lindsey Dorflinger, Sara N. Edmond, Leila Islam, Alicia A. Heapy, Liana Fraenkel
Abstract
Background
Consensus guidelines recommend multi-modal chronic pain treatment with increased uptake of non-pharmacological pain treatment modalities (NPMs). We aimed to identify the barriers and facilitators to uptake of evidence-based NPMs from the perspectives of patients, nurses and primary care providers (PCPs).
Methods
We convened eight separate groups and engaged each in a Nominal Group Technique (NGT) in which participants: (1) created an individual list of barriers (and, in a subsequent round, facilitators) to uptake of NPMs; (2) compiled a group list from the individual lists; and (3) anonymously voted on the top three most important barriers and facilitators. In a separate process, research staff reviewed each group's responses and categorized them based on staff consensus.
Results
Overall, 26 patients (14 women) with chronic pain participated; their mean age was 55. Overall, 14 nurses and 12 PCPs participated. Seven healthcare professionals were men and 19 were women; the mean age was 45. We categorized barriers and facilitators as related to access, patient-provider interaction, treatment beliefs and support. Top-ranked patient-reported barriers included high cost, transportation problems and low motivation, while top-ranked facilitators included availability of a wider array of NPMs and a team-based approach that included follow-up. Top-ranked provider-reported barriers included inability to promote NPMs once opioid therapy was started and patient skepticism about efficacy of NPMs, while top-ranked facilitators included promotion of a facility-wide treatment philosophy and increased patient knowledge about risks and benefits of NPMs.
Conclusions
In a multi-stakeholder qualitative study using NGT, we found a diverse array of potentially modifiable barriers and facilitators to NPM uptake that may serve as important targets for program development.