01.12.2018 | Research article | Ausgabe 1/2018 Open Access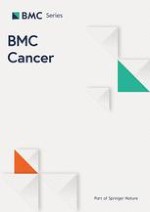 BB-Cl-Amidine as a novel therapeutic for canine and feline mammary cancer via activation of the endoplasmic reticulum stress pathway
Zeitschrift:
Autoren:

Melissa M. Ledet, Robyn Anderson, Rebecca Harman, Aaron Muth, Paul R. Thompson, Scott A. Coonrod, Gerlinde R. Van de Walle
Wichtige Hinweise
Electronic supplementary material
Abstract
Background
Mammary cancer is highly prevalent in dogs and cats and results in a poor prognosis due to critically lacking viable treatment options. Recent human and mouse studies have suggested that inhibiting peptidyl arginine deiminase enzymes (PAD) may be a novel breast cancer therapy. Based on the similarities between human breast cancer and mammary cancer in dogs and cats, we hypothesized that PAD inhibitors would also be an effective treatment for mammary cancer in these animals.
Methods
Canine and feline mammary cancer cell lines were treated with BB-Cl-Amidine (BB-CLA) and evaluated for viability and tumorigenicity. Endoplasmic reticulum stress was tested by western blot, immunofluorescence, and quantitative reverse transcriptase polymerase chain reaction (qRT-PCR). Canine and feline mammary cancer xenograft models were created using NOD scid gamma (NSG) mice, and were treated with BB-CLA for two weeks.
Results
We found that BB-CLA reduced viability and tumorigenicity of canine and feline mammary cancer cell lines in vitro. Additionally, we demonstrated that BB-CLA activates the endoplasmic reticulum stress pathway in these cells by downregulating 78 kDa Glucose-regulated Protein (GRP78), a potential target in breast cancer for molecular therapy, and upregulating the downstream target gene DNA Damage Inducible Transcript 3 (
DDIT3
). Finally, we established a mouse xenograft model of both canine and feline mammary cancer in which we preliminarily tested the effects of BB-CLA in vivo.
Conclusion
We propose that our established mouse xenograft models will be useful for the study of mammary cancer in dogs and cats, and furthermore, that BB-CLA has potential as a novel therapeutic for mammary cancer in these species.