01.12.2018 | Research article | Ausgabe 1/2018 Open Access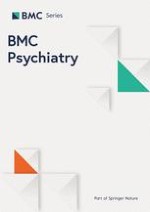 Behavioral activation versus treatment as usual in naturalistic sample of psychiatric patients with depressive symptoms: a benchmark controlled trial
Zeitschrift:
Autoren:

Kaisa E. Luoto, Lars H. Lindholm, Vesa Paavonen, Antti Koivukangas, Antero Lassila, Esa Leinonen, Olli Kampman
Abbreviations
AUDIT
Alcohol Use Disorders Identification Test
BDI
Beck Depression Inventory
GAF
Global Assessment of Functioning scale
MADRS
Montgåmery-Åsberg Depression Rating Scale
MINI
Mini International Neuropsychiatric Interview
ODS
The Ostrobothnia Depression Study
Background
Depression is a leading cause of burden and often reduces the level of functioning [
1
]. Recurrent episodes and comorbidity with other psychiatric symptoms make treatment challenging. Comorbidities of depression are very common in secondary psychiatric care [
2
] According to the guidelines of American Psychiatric Association and National Institute for Health and Care Excellence [
3
,
4
], non-pharmacological therapeutic intervention should be included in the treatment of depression. Often, chosen therapeutic methods are not standardized or evidence based, although there are well-documented therapeutic options available [
5
,
6
]. Evidence-based brief protocols should be used more widely; these are easy to implement among the usual psychiatric services [
7
].
It is not possible or necessary to offer every patient long-term therapies. Previous research indicates that some brief therapies are effective [
8
,
9
]. One example of an evidence-based brief intervention for treatment of depression is behavioral activation (BA) [
10
,
11
]. BA is an application of cognitive-behavioral therapy and includes a maximum of 24 appointments. The aim is to explore the patient's actions in relation to his or her environment. The avoidance of certain actions, and the simultaneous avoidance of negative or otherwise uncomfortable feelings, can result in negative consequences and exacerbate depressive symptoms. BA focuses on helping the patient change this negative circle by changing his or her behavior. To our knowledge, there are no studies exploring the effectiveness of BA in a psychiatric naturalistic patient population. Patients with common comorbidities, such as problematic alcohol use and suicidal behavior, are often excluded from study samples.
The Ostrobothnia Depression Study (ODS) was a benchmark controlled trial (BCT) [
12
] which in practice means an observational intervention study. BCT can be used to assess the impact of clinical intervention in routine settings (in contrast to RCTs which usually assess the specific intervention in ideal settings). ODS aimed at developing a systematic model for assessment and treatment of patients with depression and comorbid non-psychotic disorders [
13
]. The purpose was to increase the effectiveness of psychiatric services by implementing a systematic use of brief therapy and improving the process of recognizing patients who could benefit from this type of therapy. The aim of the present study is to explore the benefits of BA in a heterogeneous group of depressed patients in a naturalistic setting and to compare BA with treatment as usual (TAU) in terms of functional recovery, service use, dropout and mortality.
Methods
Results
Depressive symptoms in the intervention group
Improvement of depressive symptoms in intervention group patients was analyzed using MADRS scores. The mean MADRS score for the intervention patients at baseline was 23.2 points (
n
= 228, SD 6.69), at 6 months 13.1 points (
n
= 156, SD 8.69), at 12 months 9.93 points (
n
= 135, SD 7.83) and at 24 months 8.31 points (
n
= 95, SD 7.58). The estimated change in MADRS score compared to baseline was statistically significant in every follow-up period. The results are presented in the Table
2
.
Table 2
The results of linear mixed model for repeated measures of MADRSa score in the intervention group
| Follow-up period | N | Estimateb | 95% CI | SE | |
| --- | --- | --- | --- | --- | --- |
| 0–6 months | 156 | −10.06 | −11.58 - -8.54 | 0.77 | < 0.001 |
| 0–12 months | 135 | −13.15 | −14.64 - -11.65 | 0.76 | < 0.001 |
| 0–24 months | 95 | −14.82 | −16.35 - -13.29 | 0.77 | < 0.001 |
Level of functioning
At 12 months and 24 months follow-up points the estimated improvement in GAF score was significantly better in the intervention group patients (estimate for patient group 2.26,
p
= 0.036). At six months a similar difference was not found. For more detailed results please see Table
3
. A sensitivity analysis was performed by excluding the patients with personality disorder as secondary clinical diagnoses (
n
= 44). The results were similar with the total sample analysis, with GAF estimates between intervention and control groups 0–6 months 2.84 (
p
= 0.057), 0–12 months 5.13 (
p
= 0.006), and 0–24 months 6.58 (
p
= 0.002).
Table 3
The results of linear mixed model for repeated measures of GAFa score between the intervention and control groups
| Follow-up period | Intervention (n) | Control (n) | Estimateb | 95% CI | SE | |
| --- | --- | --- | --- | --- | --- | --- |
| 0–6 months | 167 | 159 | 2.65 | −0.14 – 5.44 | 1.42 | 0.063 |
| 0–12 months | 128 | 134 | 4.85 | 1.43–8.28 | 1.74 | 0.006 |
| 0–24 months | 94 | 98 | 5.71 | 1.76–9.67 | 2.01 | 0.005 |
Use of services
There were no between-group differences in number of outpatient visits (comparisons: no visits, one visit/month, two visits/month, more than two visits/month) during any of the follow-up periods (intervention group:
n
= 242, control group:
n
= 205; 0–6 months,
p
= 0.74; 6–12 months,
p
= 0.56; 12–24 months,
p
= 0.52). The need for hospitalization was measured in every follow-up period as "yes, patient was hospitalized" or "no, patient was not hospitalized." The number of hospitalized patients was similar in the intervention and control groups (intervention group: n = 242, control group: n = 205) during all periods: 0–6 months, 59 (24.4%) in the intervention group vs. 60 (29.6%) in the control group,
p
= 0.22; 6–12 months, 14 (5.8%) vs. 12 (5.9%),
p
= 0.96; 12–24 months, 16 (6.6%) vs. 15 (7.4%),
p
= 0.75). Among the patients who were hospitalized at baseline, the number of patients hospitalized during the follow-up periods was also similar between the groups (
p
= 0.17,
p
= 0.95,
p
= 0.35, respectively). The median number of days spent in hospital was analyzed for patients hospitalized during the respective follow-up periods. At 0–6 months, the median number of days hospitalized was 16 (IQR 17) in the study group (
n
= 59) and 18.5 (IQR 16.75) in the control group (
n
= 60), at 6–12 months it was 17 (IQR 12.75) (
n
= 14) and 19 (IQR 29.75) (
n
= 12), and at 12–24 months it was 10 (IQR 12.25) (
n
= 16) and 21 (IQR 31) (
n
= 15).
Dropout and deaths
There were no between-group differences in the number of patients who dropped out in any period (
p
= 0.79,
p
= 0.86,
p
= 0.51, respectively). There were four deaths in the intervention group and seven deaths in the control group (mortality rate: 1.7% vs. 3.4%,
p
= 0.23). Among these, the median time of death from baseline was 16 months (IQR 16) in the intervention group and 5 months (IQR 13) in the control group. We have no data on specific causes of death.
Discussion
The study setting, a benchmark controlled trial, allowed the evaluation of BA treatment among ordinary patients in a routine clinical setting of secondary psychiatric care. The findings provide essential information for the planning and development of a better treatment protocol for depressed patients. Since only patients with psychotic or organic pathologies were excluded, our study group was heterogeneous with various comorbidities and therefore representative of the usual patient population in everyday practice. The depressive symptoms among the intervention group patients seem to alleviate compared to baseline during the 2-years follow-up. Our results suggest that BA is a useful tool for this patient group although strong conclusions can't be drawn about the benefits compared to TAU. The intervention patients showed a greater improvement in functional ability than the control patients. This is an important finding, because functional recovery has a considerable effect on daily life and is particularly relevant from the patients' point of view. The ODS intervention did not change the need for outpatient visits or hospitalizations compared with TAU. This finding is surprising, since one could assume that the positive change in functional ability would reflect in a reduced need for inpatient treatment in the intervention group. The dropout rates indicated that adherence to treatment was similar in both groups.
In a review of studies of the impact of homework in cognitive-behavioral therapy, Thase and Callan concluded that homework adherence increases the possibility of successful outcomes when treating depression [
27
]. This is one reason why BA was selected as an ODS treatment method instead of other evidence-based brief therapies. As BA aims to activate the patient (e.g., by homework and skills training) this may positively influence the overall functional ability of patients, resulting in functional recovery. The cost-effectiveness and outcomes of BA have been compared with those of more comprehensive cognitive-behavioral therapies in depressed adult patients and evidence indicates that BA is equally effective [
28
]. This suggests that brief interventions should be used at least in the public services, where the challenge is to provide effective treatment for a large number of patients despite limited resources. BA can be delivered successfully by mental health workers with no long-term training in psychological therapies [
29
] In the ODS, mental health workers with various backgrounds received short-term training in BA and delivered the intervention successfully. This indicates that this therapy could enhance the treatment of depression in the existing psychiatric health care system.
There are some limitations that should be considered when interpreting our results. BCTs are novel experimental designs which have yet to prove their methodological validity. Therefore, when considering the recommendations deriving from our paper it should be noted that this is a method that still needs to be validated against RCT (in this case BA vs treatment as usual groups). Data on intervention group patients was collected prospectively and data on control group patients was collected retrospectively. Data on intervention group patients was more comprehensive compared to the control patients. This is due to the inferior quality and the content of clinical information in the patient registers of the control group and it was not possible to complete the data afterwards. For example, it is possible that part of the information on somatic diagnoses of control patients is missing. We were unable to compare alleviation of depressive symptoms between the groups because of lack of information on BDI or MADRS scores for the control patients. Therefore, we could explore the effect of BA on the depression only in the intervention group. This is clearly a limitation when assessing our results in terms of the treatment of depressive symptoms. There was a slight between-group difference in baseline GAF scores. Thus, it was not possible to match the patients according to GAF levels at baseline. It could be argued that there is much inter-rater variation in GAF scores [
30
,
31
] and that our results concerning GAF are therefore less reliable. We attempted to avoid this variation in scores using the calibration process described in section "
Baseline assessment
". Intervention group patients with comorbid alcohol use problems also received MIs (a maximum of five appointments), which was mainly targeted at engaging patients with the treatment and increasing the success of BA. This practice was chosen according to the strong evidence of MI for substance use disorders [
25
]. As the use of MI may have had an additional positive impact on the treatment of depressive symptoms among the patients with alcohol use problems, the trial can be regarded to evaluate not only BA, but also the combination of BA and MI in this group. We did not screen for possible personality disorders at baseline. Although 13.6% of the cohort patients had other diagnosis from mood disorders as primary research diagnoses, they all had depressive symptoms with at least moderate severity and only few of these patients were clinically diagnosed in the personality disorders category. When further exploring the register based clinical diagnoses of personality disorders, approximately 10% of the total sample were diagnosed in this category. As it is known, personality disorders have a close effect on treatment response. Therefore, it should be noted that personality disorder as a secondary psychiatric diagnosis was more common in the control group relative to the intervention group (9 patients (3.7%) vs. 17 patients (8.4%). Also, the antipsychotic exposure was higher in the control patients, suggesting the control group may have more complex depressive illness than the intervention group. It was anticipated that patients with serious complicating factors, such as personality problems, would not benefit sufficiently from BA and could then be assessed more thoroughly and offered more comprehensive intervention.
Conclusions
The systematic use of BA among secondary psychiatric care depressive patients provides encouraging results despite the patients had various comorbid non-psychotic disorders. Depressive symptoms alleviated and there was a trend towards better functional recovery among patients treated with BA compared to those treated with TAU in this study.
Acknowledgements
We thank the research nurses Susanna Hotakainen, Marja Koivumäki and Kati Huhtala for their important work on the ODS project. We thank our colleagues in the PhD seminars at the Department of Psychiatry, School of Medicine, University of Tampere for their valuable comments and help in preparing this manuscript. We thank Diane Williams, PhD, from Edanz Group (
www.​edanzediting.​com/​ac
) for editing a draft of this manuscript.
Availability of data and materials
The datasets generated and/or analysed during the current study are not publicly available due to the restrictions in the study permission but are available from the corresponding author on reasonable request.
Funding
The ODS was supported by the South Ostrobothnia Hospital District research fund, grant number EVO1114. The preparation of the manuscript was supported by a grant from the Finnish Research Foundation of Psychiatry.
Ethics approval and consent to participate
The study protocol was approved by the Seinäjoki Hospital District ethics committee (reference number EVO1114). Written informed consent was collected from all participants. At baseline, patients received written information and they had the option of asking for additional information during the study. Patients were informed that they could discontinue study participation at any time without dropping out of the treatment.
Consent for publication
Not applicable.
Competing interests
The authors declare that they have no competing interests.
Publisher's Note
Springer Nature remains neutral with regard to jurisdictional claims in published maps and institutional affiliations.
Open Access
This article is distributed under the terms of the Creative Commons Attribution 4.0 International License (
http://​creativecommons.​org/​licenses/​by/​4.​0/​
), which permits unrestricted use, distribution, and reproduction in any medium, provided you give appropriate credit to the original author(s) and the source, provide a link to the Creative Commons license, and indicate if changes were made. The Creative Commons Public Domain Dedication waiver (
http://​creativecommons.​org/​publicdomain/​zero/​1.​0/​
) applies to the data made available in this article, unless otherwise stated.