01.10.2013 | Review | Ausgabe 5/2013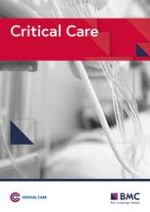 Bench-to-bedside review: Future novel diagnostics for sepsis - a systems biology approach
Zeitschrift:
Autoren:

Simon Skibsted, Manoj K Bhasin, William C Aird, Nathan I Shapiro
Wichtige Hinweise
Electronic supplementary material
The online version of this article (doi:
10.​1186/​cc12693
) contains supplementary material, which is available to authorized users.
Competing interests
The authors declare that they have no competing interests.
Abstract
The early, accurate diagnosis and risk stratification of sepsis remains an important challenge in the critically ill. Since traditional biomarker strategies have not yielded a gold standard marker for sepsis, focus is shifting towards novel strategies that improve assessment capabilities. The combination of technological advancements and information generated through the human genome project positions systems biology at the forefront of biomarker discovery. While previously available, developments in the technologies focusing on DNA, gene expression, gene regulatory mechanisms, protein and metabolite discovery have made these tools more feasible to implement and less costly, and they have taken on an enhanced capacity such that they are ripe for utilization as tools to advance our knowledge and clinical research. Medicine is in a genome-level era that can leverage the assessment of thousands of molecular signals beyond simply measuring selected circulating proteins.
Genomics
is the study of the entire complement of genetic material of an individual.
Epigenetics
is the regulation of gene activity by reversible modifications of the DNA.
Transcriptomics
is the quantification of the relative levels of messenger RNA for a large number of genes in specific cells or tissues to measure differences in the expression levels of different genes, and the utilization of patterns of differential gene expression to characterize different biological states of a tissue.
Proteomics
is the large-scale study of proteins.
Metabolomics
is the study of the small molecule profiles that are the terminal downstream products of the genome and consists of the total complement of all low-molecular-weight molecules that cellular processes leave behind. Taken together, these individual fields of study may be linked during a systems biology approach. There remains a valuable opportunity to deploy these technologies further in human research. The techniques described in this paper not only have the potential to increase the spectrum of diagnostic and prognostic biomarkers in sepsis, but they may also enable the discovery of new disease pathways. This may in turn lead us to improved therapeutic targets. The objective of this paper is to provide an overview and basic framework for clinicians and clinical researchers to better understand the 'omics technologies' to enhance further use of these valuable tools.