01.08.2011 | Review | Ausgabe 4/2011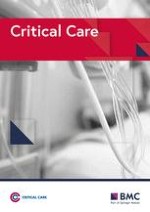 Bench-to-bedside review: Ventilation-induced renal injury through systemic mediator release - just theory or a causal relationship?
Zeitschrift:
Wichtige Hinweise
Competing interests
The authors declare that they have no competing interests.
Authors' contributions
JWK performed the literature search and drafted the manuscript. RV performed the literature search and critically reviewed the manuscript. FDC critically reviewed the manuscript. FBP helped to draft the manuscript. ABJG conceived of the study and helped to draft the manuscript. All authors read and approved the final manuscript.
Abstract
We review the current literature on the molecular mechanisms involved in the pathogenesis of acute kidney injury induced by plasma mediators released by mechanical ventilation. A comprehensive literature search in the PubMed database was performed and articles were identified that showed increased plasma levels of mediators where the increase was solely attributable to mechanical ventilation. A subsequent search revealed articles delineating the potential effects of each mediator on the kidney or kidney cells. Limited research has focused specifically on the relationship between mechanical ventilation and acute kidney injury. Only a limited number of plasma mediators has been implicated in mechanical ventilation-associated acute kidney injury. The number of mediators released during mechanical ventilation is far greater and includes pro- and anti-inflammatory mediators, but also mediators involved in coagulation, fibrinolysis, cell adhesion, apoptosis and cell growth. The potential effects of these mediators is pleiotropic and include effects on inflammation, cell recruitment, adhesion and infiltration, apoptosis and necrosis, vasoactivity, cell proliferation, coagulation and fibrinolysis, transporter regulation, lipid metabolism and cell signaling. Most research has focused on inflammatory and chemotactic mediators. There is a great disparity of knowledge of potential effects on the kidney between different mediators. From a theoretical point of view, the systemic release of several mediators induced by mechanical ventilation may play an important role in the pathophysiology of acute kidney injury. However, evidence supporting a causal relationship is lacking for the studied mediators.