27.05.2020 | Original Research | Ausgabe 8/2020 Open Access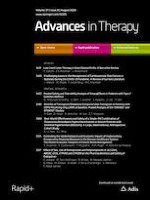 Benefits of Tiotropium/Olodaterol Compared with Tiotropium in Patients with COPD Receiving only LAMA at Baseline: Pooled Analysis of the TONADO® and OTEMTO® Studies
Zeitschrift:
Autoren:

Roland Buhl, Dave Singh, Alberto de la Hoz, Wenqiong Xue, Gary T. Ferguson
Key Summary Points
Why carry out this study?
The Global Initiative for Chronic Obstructive Lung Disease recommends long-acting muscarinic antagonists (LAMAs) or long-acting β 2-agonists (LABAs) as first-line treatment for patients with chronic obstructive pulmonary disease (COPD), with escalation to dual-bronchodilator therapy as the next step; however, the American Thoracic Society recommends dual LAMA/LABA bronchodilator therapy over LAMA or LABA monotherapy in patients with COPD who experience dyspnoea or exercise intolerance. The National Institute for Health and Care excellence recommends dual LAMA/LABA therapy for patients with no indication of asthmatic features or corticosteroid responsiveness, who remain breathless or have exacerbations despite optimised non-pharmacological management and use of short-acting bronchodilators.
Previous studies comparing combined LAMA/LABA treatment with LAMA or LABA alone included patients on a range of background therapies, making it difficult to assess the clinical benefit of treatment escalation.
What was learned from the study?
This pooled analysis, which focused specifically on patients with moderate-to-severe COPD treated with LAMA monotherapy at baseline, showed significantly greater improvements in lung function, health status and breathlessness when treatment was escalated to dual bronchodilation with tiotropium/olodaterol compared with tiotropium alone.
More patients showed a clinically relevant improvement in at least one of the analysed categories (forced expiratory volume in 1 s, St. George's Respiratory Questionnaire or Transition Dyspnoea Index) when treated with tiotropium/olodaterol (87.7%) compared with tiotropium (74.5%).
This study supports the benefits of therapy optimisation to dual bronchodilation with tiotropium/olodaterol in patients receiving tiotropium alone.
Introduction
Methods
Study Design
TONADO 1&2 (NCT01431274 and NCT01431287) and OTEMTO 1&2 (NCT01964352 and NCT02006732) study designs have previously been described [
10
,
22
]. The OTEMTO studies included placebo-controlled and comparator-controlled arms; TONADO did not include a placebo-controlled arm.
The current analysis focuses on patients in these trials who were treated with LAMA monotherapy at baseline and subsequently randomised to receive either 5 µg tiotropium or 5/5 µg tiotropium/olodaterol. Treatments were administered once daily with the Respimat ® inhaler (Boehringer Ingelheim, Ingelheim am Rhein, Germany).
The study protocols were reviewed and approved by the Independent Ethics Committees and/or Institutional Review Boards of the participating centres. The studies were conducted in accordance with the Declaration of Helsinki and Good Clinical Practice guidelines. Patients in these studies provided written informed consent.
Study Outcomes and Assessments
Data were pooled from the TONADO and OTEMTO studies after 12 weeks. Here we assess trough forced expiratory volume in 1 s (FEV 1), St. George's Respiratory Questionnaire (SGRQ) total score and Transitional Dyspnoea Index (TDI) focal scores.
Responder rates for these endpoints were also analysed. Responders for trough FEV
1
(a change of > 0.1 l), SGRQ (a decrease of ≥ 4.0 points) and TDI (an increase of ≥ 1.0 point versus baseline at the time of analysis) were defined based on the suggested minimum clinically important difference (MCID) for active treatment compared with placebo [
10
,
24
–
26
].
The adjusted means were obtained from a mixed effects model for repeated measures, which included the fixed effects of treatment, study (TONADO/OTEMTO combined analysis only), planned test day, treatment-by-test day interaction, baseline and baseline-by-test day interaction. A logistic regression model with treatment as covariate was fitted for the responder analysis.
Patients
The inclusion and exclusion criteria for TONADO and OTEMTO have been previously described [
10
,
22
]. Briefly, patients were aged ≥ 40 years, with a confirmed diagnosis of moderate-to-severe (OTEMTO) or moderate-to-very-severe (TONADO) COPD, post-bronchodilator FEV
1
 < 80% of predicted normal (lower limit ≥ 30% in OTEMTO; no lower limit specified for TONADO) and post-bronchodilator FEV
1
/forced vital capacity < 70% of predicted. Patients in these studies were either current or ex-smokers with a smoking history of > 10 pack-years. Patients were not required to be symptomatic to enter the studies. The current analysis includes only patients receiving LAMA maintenance therapy at study entry; patients were excluded from this analysis if they were on any other COPD maintenance therapy (e.g., inhaled corticosteroid [ICS] therapy) at baseline.
Additional subgroup analyses were conducted according to the patient GOLD status; these included GOLD stage 2 and 3 patients, while GOLD stage 4 patients were excluded because of the low number of patients.
Results
Discussion
The current analysis pools data from four clinical trials, representing a large, clinically relevant patient population and allowing analysis of patients with COPD who were using LAMA monotherapy at baseline. However, these results have limitations due to the post hoc nature of the analysis and are therefore not powered for statistical comparisons, but nevertheless provide clinical value in the absence of any prospective data. At baseline, significant differences between the treatment arms were identified for weight and smoking status, but sensitivity analyses controlling for these covariates did not alter the presented results. This analysis also focuses on a subgroup of patients from the original studies that may not be fully representative of a wider COPD population.
Conclusion
Stepping up treatment to once-daily tiotropium/olodaterol led to significant improvements in lung function, dyspnoea severity and health status compared with tiotropium alone in patients with COPD who were receiving LAMA therapy at baseline. This shows that patients benefitted from maximising bronchodilation and treatment optimisation with tiotropium/olodaterol. Dual bronchodilation could provide additional benefits for patients with COPD currently on LAMA monotherapy and can be considered at initiation of maintenance therapy for patients with COPD.
Acknowledgements
We thank the participants included in these studies. Dave Singh is supported by the National Institute for Health Research (NIHR) Manchester Biomedical Research Centre (BRC).
Funding
Support for this project and the journal's Rapid Service and Open Access Fees were funded by Boehringer Ingelheim International GmBH.
Medical Writing Assistance
Medical writing assistance, in the form of the preparation and revision of the manuscript, was supported financially by Boehringer Ingelheim and provided by Paul Todd at MediTech Media, under the authors' conceptual direction and based on feedback from the authors.
Authorship
The authors meet criteria for authorship as recommended by the International Committee of Medical Journal Editors (ICMJE). They take full responsibility for the scope, direction, content of and editorial decisions relating to the manuscript, were involved at all stages of development and have approved the submitted manuscript.
Authorship Contributions
The authors received no compensation related to the development of the manuscript. The authors thank Florian Voß for providing additional analyses included in this manuscript.
Prior Presentation
This manuscript is based on work previously presented as a poster at European Respiratory Society (ERS) International Congress, 28 September–02 October 2019, Madrid, Spain.
Disclosures
Roland Buhl reports personal fees from AstraZeneca, Boehringer Ingelheim, Chiesi, Cipla, Novartis, Roche, Sanofi and Teva and grants to Johannes Gutenberg University Mainz from Boehringer Ingelheim, GlaxoSmithKline, Novartis and Roche, outside the submitted work. Dave Singh reports personal fees from Apellis, Cipla, Genentech, Peptinnovate and Skyepharma and grants and personal fees from AstraZeneca, Boehringer Ingelheim, Chiesi, Glenmark, Merck, Mundipharma, Novartis, Pfizer, Pulmatrix, Teva, Theravance and Verona, outside the submitted work. DS is supported by the National Institute for Health Research (NIHR) Manchester Biomedical Research Centre (BRC). Alberto de la Hoz and Wenqiong Xue are both employees of Boehringer Ingelheim. Gary T. Ferguson has received grants, personal fees and non-financial support from Boehringer Ingelheim, Novartis, AstraZeneca, Pearl Therapeutics and Sunovion, grants and personal fees from Theravance and personal fees from Verona, Mylan, Innoviva, GlaxoSmithKline and Circassia outside the submitted work.
Compliance with Ethics Guidelines
Both the TONADO ® and OTEMTO ® studies were performed in accordance with the Declaration of Helsinki, International Conference on Harmonisation Harmonised Tripartite Guideline for Good Clinical Practice and local regulations. The protocols were approved by the authorities and the ethics committees of the respective institutions, and signed informed consent was obtained from all patients.
Data Availability
The data set used and analysed during the current study are available from the corresponding author on reasonable request.
Open Access
This article is licensed under a Creative Commons Attribution-NonCommercial 4.0 International License, which permits any non-commercial use, sharing, adaptation, distribution and reproduction in any medium or format, as long as you give appropriate credit to the original author(s) and the source, provide a link to the Creative Commons licence, and indicate if changes were made. The images or other third party material in this article are included in the article's Creative Commons licence, unless indicated otherwise in a credit line to the material. If material is not included in the article's Creative Commons licence and your intended use is not permitted by statutory regulation or exceeds the permitted use, you will need to obtain permission directly from the copyright holder. To view a copy of this licence, visit
http://​creativecommons.​org/​licenses/​by-nc/​4.​0/​
.