01.12.2015 | Research article | Ausgabe 1/2015 Open Access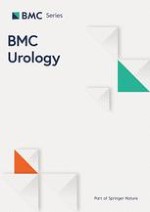 Benign prostatic hyperplasia complicated with T1DM can be alleviated by treadmill exercise—evidences revealed by the rat model
Zeitschrift:
Autoren:

Kuan-Chou Chen, Shian-Ying Sung, Yi-Ting Lin, Chiu-Lan Hsieh, Kun-Hung Shen, Chiung-Chi Peng, Robert Y. Peng
Wichtige Hinweise
Competing interests
The authors declare that they have no competing interests.
Authors' contributions
KCC, SYS and CCP contributed to this work by designing the study, obtaining data, performing the statistical analysis, writing the manuscript and interpreted the data. CLH and KHS participated in the conception and design of the study and acquisition of data. RYP and YTL participated in the conception and design of the study and interpretation of the data and reviewed and edited the manuscript. All authors read and approved the final manuscript.
Abstract
Background
Both benign prostatic hyperplasia (BPH) and Type-1 diabetes mellitus (T1DM) share similar epidemiologic features and are all associated with the insulin-like growth factor (IGF)-mediated hormonal imbalance. The purpose of this study is to understand whether exercise (EX) could alleviate DM and DM + BPH.
Methods
Sprague-Dawley rats were divided into eight groups: normal control, EX, BPH, BPH + EX, DM, DM + EX, BPH + DM, and BPH + DM + EX. T1DM was induced by intraperitoneal (ip) injection of streptozotocin (65 mg/kg) in Week 2, and BPH was induced by successive ip injections of Sustanon® (testosterone, 3.5 mg/head) plus estradiol (0.1 mg/head) from Week 3 to Week 9. Treadmill exercise training (20 m/min, 60 min per time) was performed three times per week for 6 weeks.
Results
In BPH + EX, EX maintained at a constant body weight (BW); and suppressed stromal layer thickening, collagen deposition, blood glucose (BG), levels of testosterone (Ts), 5α-reductase(5αRd), dihydrotestosterone (DHT), androgen receptor (AR), serum hydrogen peroxide, TBARs, and interleukin-6 (IL-6). EX recovered testes size and substantially increased nitric oxide (NO) levels. In DM + EX group, EX decreased BW, PW, nuclear proliferation, inflammatory cell aggregation, collagen deposition, and BG. As contrast, EX upregulated insulin, IGF, Ts, NO, 5αRd, AR, and DHT, and substantially reduced PSA. In BPH + DM + EX, EX maintained BW at a subnormal level, slightly suppressed prostate stromal inflammation, collagen deposition, and BG, moderately restored sIn and IGF. Although failed to suppress Ts, EX highly upregulated 5αRd and suppressed DHT and AR, together with highly upregulated NO resulting in substantially reduced PSA.
Conclusion
EX, by remodeling androgen and NO expressions, can effectively alleviate BPH, DM, and BPH + DM.