13.09.2017 | Original Article | Ausgabe 1/2018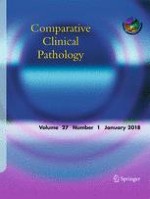 Betulinic acid, natural pentacyclic triterpenoid prevents arsenic-induced nephrotoxicity in male Wistar rats
Zeitschrift:
Autoren:

Binu Prakash, Abhilash Surendran, Vineetha Radhakrishnan Chandraprabha, Arathi Pettamanna, Harikumaran Nair Raveendran Nair
Abstract
The aim of this study was to investigate the possible renoprotective role of betulinic acid, a natural pentacyclic triterpenoid on arsenic-induced nephrotoxicity. Male Wistar rats were divided into four groups and experiment was done as follows: normal control group, arsenic trioxide (4 mg/kg b.wt) group, betulinic acid control (100 mg/kg b.wt) group, and a combination therapy group with both arsenic trioxide (4 mg/kg b.wt) and betulinic acid (100 mg/kg b.wt).The mode of administration of drugs was oral, and duration of study was 30 days. The results showed that the arsenic treatment inflated the urea, uric acid, creatinine, and serum γ-glutamyl tranferase (GGT) in serum and at the same time, creatinine clearance rate was down turned significantly (
p
< 0.05) in rats. Arsenic-induced oxidative stress in renal tissue was identified by increased levels of lipid peroxidation marker thiobarbituric acid reactive substances (TBARS). Reduced glutathione and enzymatic antioxidants—glutathione S-transferase (GST), glutathione peroxidase (GPx), superoxide dismutase (SOD), and catalase (CAT)—were altered by arsenic exposure. Tubular necrosis and destruction of tubular structures were observed. Betulinic acid treatment markedly attenuated in the arsenic-induced renal tissue damage. These data indicate that the natural antioxidant betulinic acid might have a protective effect against arsenic-induced nephrotoxicity and oxidative stress.