01.12.2012 | Research article | Ausgabe 1/2012 Open Access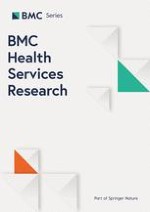 Beyond price: individuals' accounts of deciding to pay for private healthcare treatment in the UK
Zeitschrift:
Autoren:

Catherine Exley, Nikki Rousseau, Cam Donaldson, Jimmy G Steele
Wichtige Hinweise
Competing interests
The authors declare that they have no competing interests.
Authors' contributions
CE in collaboration with CD and JS and the wider research team designed the original study and obtained funding. CE and NR developed the interview guides, NR conducted the interviews and analysis was conducted jointly by both CE and NR. Final interpretation was undertaken jointly by all authors. CE wrote the first draft of this paper, NR, CD and JS commented on subsequent drafts. All authors approved the final version. All authors are guarantors and accept full responsibility for the conduct of the study and the contents of the paper.
Abstract
Background
Delivering appropriate and affordable healthcare is a concern across the globe. As countries grapple with the issue of delivering healthcare with finite resources and populations continue to age, more health-related care services or treatments may become an optional 'extra' to be purchased privately. It is timely to consider how, and to what extent, the individual can act as both a 'patient' and a 'consumer'. In the UK the majority of healthcare treatments are free at the point of delivery. However, increasingly some healthcare treatments are being made available via the private healthcare market. Drawing from insights from healthcare policy and social sciences, this paper uses the exemplar of private dental implant treatment provision in the UK to examine what factors people considered when deciding whether or not to pay for a costly healthcare treatment for a non-fatal condition.
Methods
Qualitative interviews with people (n = 27) who considered paying for dental implants treatments in the UK. Data collection and analysis processes followed the principles of the constant comparative methods, and thematic analysis was facilitated through the use of NVivo qualitative data software.
Results
Decisions to pay for private healthcare treatments are not simply determined by price. Decisions are mediated by: the perceived 'status' of the healthcare treatment as either functional or aesthetic; how the individual determines and values their 'need' for the treatment; and, the impact the expenditure may have on themselves and others. Choosing a private healthcare provider is sometimes determined simply by personal rapport or extant clinical relationship, or based on the recommendation of others.
Conclusions
As private healthcare markets expand to provide more 'non-essential' services, patients need to develop new skills and to be supported in their new role as consumers.