11.10.2018 | Original Paper | Ausgabe 1/2019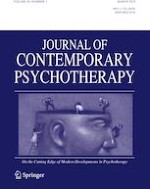 Beyond the Borderline: Expanding Our Repertoire to Address Relational Patterns and Power Dynamics Attendant to Diverse Personality Disorders
Zeitschrift:
Autoren:

Kenneth L. Critchfield, Julia Dobner-Pereira, Mariafé T. Panizo, Kirstin Drucker
Abstract
A present challenge in our field is that diverse and frequently comorbid patterns of personality disorder are not sufficiently addressed by existing evidence-based treatments. Authors in the special section describe promising efforts to address this challenge, including case examples illustrating the utility of each approach. Each approach is consistent with evidence-based principles of change, suggesting the possibility of placing them together within a meta-theoretical integration frame (Magnavita and Anchin in Unifying psychotherapy: Principles, methods, and evidence from clinical science, Springer Publishing Co, New York,
2014
). Common threads include use of an individualized case formulation to tailor treatment to diverse patterns; incorporation of affect, behavior, and cognition; and modification of attachment-linked, internal templates using both didactic and experiential forms of learning. Interpersonal Reconstructive Therapy (IRT), our favored approach, offers a similar language and framework, leaving technical choices to the clinician so long as they are consistent with an attachment-based, interpersonal case formulation, and are helpful in establishing new patterns toward adaptive goals. Work with IRT suggests ways to extend further the focus on internalized representations. Direct conversation with "family in the head" can be used to enhance ways of being, thinking, and feeling that allow distance and differentiation from problematic internalizations of loved ones. The authors present suggestions for future research, emphasizing the therapeutic relationship as well as the need to measure therapeutic optimality in a tailored, context-specific manner focused on mechanisms of psychopathology and change.