01.12.2019 | Review | Ausgabe 1/2019 Open Access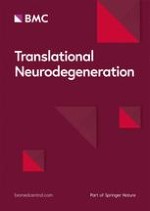 Beyond the synucleinopathies: alpha synuclein as a driving force in neurodegenerative comorbidities
Zeitschrift:
Autoren:

Naomi P. Visanji, Anthony E. Lang, Gabor G. Kovacs
Abstract
The fundamental role that alpha-synuclein (aSyn) plays in the pathogenesis of neurodegenerative synucleinopathies, including Parkinson's disease, dementia with Lewy bodies, and multiple system atrophy, is a well-accepted fact. A wealth of experimental evidence has linked this relatively small but ubiquitously expressed protein to a plethora of cytopathologic mechanisms and suggests that aSyn may be capable of seeding the progressive spread of synucleinopathy throughout the brain. Beyond the synucleinopathies, the abnormal deposition of aSyn is frequently seen in a variety of other neurodegenerative proteinopathies including Alzheimer's disease. In spite of the fact that the frequency of concomitant aSyn pathology in these disorders is such that it can be considered the rule rather than the exception, the potential role that aSyn may have in these disorders has received relatively little attention.
In this article we postulate that aSyn may in fact be a key protein in driving the pathogenic processes in neurodegenerative comorbidities. In addition to reviewing the frequency of concomitant deposition of aSyn in the neurodegenerative proteinopathies, we also consider our current understanding of the interaction of aSyn with other neurodegenerative disease-associated proteins, including tau, TDP-43, amyloid-β and prion protein, in the context of neuropathologic studies describing the anatomical sites of potential concomitant pathology. We conclude that a growing body of evidence, encompassing neuropathology studies in human brain, animal models of concomitant proteinopathies and studies employing sophisticated methods of probing protein-protein interaction, cumulatively suggest that aSyn is well positioned to exert a strong influence on the pathogenesis of the neurodegenerative comorbidities.
We hope to stimulate research in this emerging field and consider that future studies exploring the contribution of aSyn to the pathogenic processes in neurodegenerative comorbidities may provide critical information pertaining to diagnosis and the development of vital disease modifying treatments for these devastating diseases.