01.12.2017 | Case report | Ausgabe 1/2017 Open Access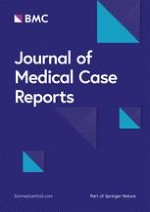 Bilateral adrenal hemorrhage in the background of
Escherichia coli

sepsis: a case report
Zeitschrift:
Autor:

Jahanzaib Khwaja
Abstract
Background
Sepsis is a syndrome of life-threatening organ dysfunction caused by a dysregulated host response to infection. It can have devastating consequences, including bilateral adrenal hemorrhage, particularly in patients at high thrombotic risk, such as those with antiphospholipid syndrome and those on long-term anticoagulation.
Case presentation
A 49-year-old white woman re-presented to hospital with a history suggestive of sepsis. She had a medical background of primary antiphospholipid syndrome on lifelong warfarin. Ten days prior to this presentation, she had been hospitalized following
Escherichia coli
bacteremia, commenced on intravenous antibiotics, and discharged 2 days later with a prescribed 5-day course of oral amoxicillin. On readmission, she had ongoing fever, myalgia, malaise, and hypotension. Investigations revealed anemia with thrombocytopenia, hyponatremia, and acute-on-chronic kidney injury. Despite treatment for urosepsis, she became tachypneic, clammy, light-headed, drowsy, and hypothermic. Computed tomography revealed bilateral adrenal hemorrhage, and biochemical examination confirmed hypoadrenalism. Following discharge, she had persistent renal and hepatic injury lasting 3 months.
Conclusions
Early identification, intensive monitoring, and aggressive support may reduce the acquired thrombotic risk and avoid potentially life-threatening outcomes of sepsis.