10.09.2020 | Case Report | Ausgabe 12/2020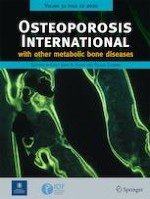 Bilateral atypical ulnar fractures occurring after long-term treatment with bisphosphonate for 7 years and with teriparatide for 2 years: a case report
Zeitschrift:
Autoren:

Y. Asano, K. Tajiri, S. Yagishita, H. Nakanishi, T. Ishii
Wichtige Hinweise
The original version of this article was revised:Figure 2 was shown incorrectly
Publisher's note
Springer Nature remains neutral with regard to jurisdictional claims in published maps and institutional affiliations.
Abstract
Most atypical fractures associated with the long-term treatment with bisphosphonates (BP) commonly develop in the femoral shaft or subtrochanteric region. We report a rare case of bilateral atypical ulnar fractures in an 86-year-old woman with osteoporosis who finished the treatment with teriparatide for 2 years after long-term treatment with BP. She slid down from an approximately 30-cm-tall seat and slightly contused her left elbow. Plain radiography revealed that both ulnae had a noncomminuted short oblique fracture with cortical thickening and sclerosis at the fracture site. Based on the clinical and radiological findings, she was diagnosed with bilateral atypical ulnar fractures. The fracture of the left ulna was completely displaced and treated surgically. On the other hand, since the right ulna was an incomplete fracture, it was treated conservatively. During surgery, drilling with Kirschner wire and curettage were performed in the osteosclerotic lesion, and an autologous cancellous bone graft was inserted from the ipsilateral olecranon. Bone union was achieved in both fractures at 1 year after surgery. There have been no reports regarding the development of atypical ulnar fractures occurring after the long-term treatment with BP and 2-year use of teriparatide, and the treatment strategies of such fractures have not been established. If teriparatide cannot be used after occurring atypical fractures, the use of low-intensity pulsed ultrasound (LIPUS) and subsequent treatment for osteoporosis are recommended for the bone union. In addition, the treatment of the osteosclerotic lesion and rigid internal fixation are required in surgery.