01.12.2015 | Case report | Ausgabe 1/2015 Open Access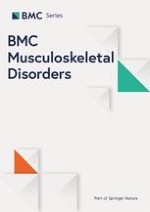 Bilateral diaphyseal bone cysts of the tibia mimicking shin splints in a young professional athlete—a case report and depiction of a less-invasive surgical technique
Zeitschrift:
Autoren:

Andreas Toepfer, Norbert Harrasser, Ulrich Lenze, Franz Liska, Heinrich Mühlhofer, Rüdiger von Eisenhart-Rothe, Ingo J. Banke
Wichtige Hinweise
Competing interests
The authors declare that they have no competing interests.
Authors' contributions
AT carried out the surgeries and drafted the manuscript, NH, UL, FL and HM helped to coordinate and draft the mansucript, participated with the literature review and preparation of the figures and provided all data regardig the follow-up of the patient, RER and IB were essential in the revision process of the manuscript, revising it critically for important intellectual content. All authors read and approved the final document.
Abstract
Background
Medial tibial stress syndrome is one of the most common causes of exertional leg pain in runners whereas musculoskeletal tumors and tumor-like lesions are rare encounters in orthopedic sports medicine practice.
Unicameral (simple) bone cyst is a well-known tumor-like lesions of the bone typically affecting children and adolescents. Bilateral occurrence is very rare though and has never been reported before in both tibiae. Failing to accurately diagnose a tumorous lesion can entail far-reaching consequences for both patients and physicians.
Case presentation
We report the case of large bilateral unicameral bone cysts of the diaphyseal tibiae mimicking medial tibial stress syndrome in a 17-year old professional athlete. This is the first report of symmetric tibial unicameral bone cysts in the literature. The patient complained about persisting shin splint-like symptoms over 5 months despite comprehensive conservative treatment before MRI revealed extensive osteolytic bone lesions in both diaphyseal tibiae. The patient-tailored, less-invasive surgical procedure, allowing the patient to return to his competitive sports level symptom-free 3 months after surgery and to eventually qualify for this years Biathlon Junior World Championships, is outlined briefly. Pathogenesis and various treatment options for this entity will be discussed.
Conclusion
This report will help to raise awareness for musculoskeletal tumors as differential diagnosis for therapy-refractory symptoms in young athletes and encourage medical staff involved in sports medicine and athlete support to perform early high quality imaging and initiate sufficient surgical treatment in similar cases. Moreover, our less-invasive surgical procedure aiming for a fast return to sports might be an optimal compromise between traditional open curettage with low risk of recurrence and a soft tissue-saving and bone-sparing minimal-invasive technique.