01.12.2017 | Case report | Ausgabe 1/2017 Open Access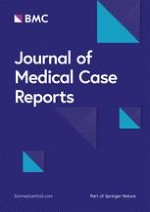 Bilateral pheochromocytoma with ganglioneuroma component associated with multiple neuroendocrine neoplasia type 2A: a case report
Zeitschrift:
Autoren:

Boubacar Efared, Gabrielle Atsame-Ebang, Soufiane Tahirou, Khalid Mazaz, Nawal Hammas, Hinde El Fatemi, Laila Chbani
Abbreviations
ATA
American Thyroid Association
CPC/PG
Composite pheochromocytoma-paraganglioma
HES
Hematoxylin-eosin Saffron
MCT
Medullary carcinoma of the thyroid
MEN 2A/B
Multiple endocrine neoplasia syndrome type 2A/type 2B
MPNST
Malignant peripheral nerve sheath tumors
PCR
Polymerase chain reaction
RET
Rearranged during transfection proto-oncogene
vHL
von Hippel Lindau syndrome
VIP
Vasoactive intestinal peptide
Background
Composite pheochromocytoma/paraganglioma (CPC/PG) is a rare entity composed of classic PC/PG associated with other neurogenic tumors such as neuroblastoma, ganglioneuroblastoma, ganglioneuroma (GN), or malignant peripheral nerve sheath tumors (MPNST) [
1
]. In the literature, ganglioneuroma is the most reported component of composite tumors [
2
]. The adrenal medulla is the common site of these tumors, however, extramedullary locations (CPG) can be encountered. Cases of CPC/PG have been reported in association with neurofibromatosis (NF), gastrointestinal stromal tumors (GIST), multiple endocrine neoplasia (MEN), and von Hippel-Lindau syndrome (vHL) [
2
,
3
]. The management and the prognosis of CPC/GN seem to be similar to their ordinary-type counterpart (PC/PG), but based on a few reported cases to date, little is known about their real behavior [
2
,
4
,
5
]. To the best of our knowledge, only four cases of CPC/PG associated with MEN 2 have been previously reported in the literature [
6
–
9
]. The first case was reported by Brady
et al
. in 1997 in a 34-year-old man with MEN 2A. In 1998, Matias-Guiu
et al.
reported another case of CP in a 49-year-old man with MEN 2A. The two reported cases were located in the left adrenal medulla and the neurogenic components were ganglioneuroma and ganglioneuroblastoma, respectively. Cases associated with MEN 2B have also been reported. Charfi
et al
. reported in 2008 the first case of CP associated with MEN type 2B. More recently, in 2016, Yamasaki
et al.
reported a case of a composite retroperitoneal paraganglioma in a 59-year-old man.
We report here an additional case of CPC in a 40-year-old woman with MEN 2A. We discuss the clinicopathological issues and perform a review of the literature in order to improve understanding of this very rare type of tumor.
Case presentation
A 40-year-old Arabic woman presented with headache, palpitations, paroxysmal hypertension and weight loss, which she had had for 3 years. She had a history of treated type 2 diabetes. She had also a familial history of type 2 diabetes and MEN 2A. Her sister had undergone thyroidectomy and adrenalectomy for medullary carcinoma of the thyroid and pheochromocytoma. A physical examination showed an enlarged and firm thyroid mass which moved with swallowing, without cervical adenopathy. Our patient had no hypertension on admission. A cervical ultrasound scan found nodular heterogeneous calcified and cystic lesions of the thyroid gland, the larger lesion was located at the left lobe and measured 1.8 × 1.3 cm. An abdominal computed tomography (CT) scan revealed a left adrenal mass and a well-encapsulated nodule of the right adrenal gland (Fig.
1
). The laboratory tests showed high levels of serum parathyroid hormone and calcitonin, normal levels of serum calcium, phosphorus, and Vitamin D. A 24-hour urine collection found elevated levels of norepinephrine, epinephrine, and methyldopa (Table
1
). Because of our patient's familial history of MEN 2A, a genetic mutational analysis for the
RET
proto-oncogene was performed at our hospital's medical genetics department. The test was carried out on our patient's peripheral blood. Her genomic deoxyribonucleic acid (DNA) was amplified by using polymerase chain reaction (PCR) and oligonucleotide primers for exon 11. A direct sequencing analyses showed a
RET
(rearranged during transfection proto-oncogene) germline mutation at exon 11 (codon 634), with a substitution of tyrosine by a cysteine residue (C1900T→C (C634R).
Table 1
Laboratory tests results of our patient
| | Results | Normal range |
| --- | --- | --- |
| Parathyroid hormone (serum) | 222.2 pg/mL | 11–54pg/mL |
| Calcitonin (serum) | 3130 pg/mL | ˂ 6.4 pg/mL |
| Calcium (serum) | 10.2 mg/L | 8.7–10.3mg/dL |
| Phosphorus (serum) | 3.5 mg/L | 2.5–4.5 mg/dL |
| Vitamin D (serum) | 28 ng/mL | 24–40 ng/mL |
| Norepinephrine (urine) | 345,350 nmol/24 h | 90–500 nmol/24 h |
| Epinephrine (urine) | 217,152 nmol/24 h | ˂ 120 nmol/24 h |
| Methyldopa (urine) | 9722 nmol/24 h | 300–3000 nmol/24 h |
×
Our patient had undergone bilateral adrenalectomy, total thyroidectomy with cervical lymphadenectomy, and parathyroidectomy. A pathological examination confirmed the MEN 2A consisting of left medullary pheochromocytoma, right medullary composite pheochromocytoma-ganglioneuroma, medullary carcinoma of the thyroid (MCT) with lymph node metastasis, and parathyroid hyperplasia. Our patient recovered well after surgery and had no signs of disease 3 years after treatment.
Pathological findings
Grossly, the resected right adrenal specimen measured 9 × 6.5 × 5 cm. The tumor was well-encapsulated, firm, and the cut surface was yellow-brown, with areas of hemorrhage (Fig.
2a
).
×
The left adrenal specimen measured 13 × 8 cm. The cut surface of the tumor was light tan and yellowish, with hemorrhagic changes (Fig.
2b
).
The left lobe of the resected thyroid gland measured 4.5 × 3.5 × 1.5 cm; the right lobe measured 5 × 3 × 3 cm and the isthmus measured 2 × 1.5 cm. A 1.7 × 1.2 cm nodule was found in the middle third of the left lobe; it was fleshy, grayish-white, and ill-defined. Cystic and fibrous degeneration were seen in the remaining parenchyma. The right lobe was enlarged with multinodular colloid structures with cystic degeneration.
The resected parathyroid gland measured 2.4 × 1 × 0.5 cm, with no macroscopic lesion identified.
Lymphadenectomy consisted of fibroadipocytic fragments measuring from 0.5 cm to 3 × 2.5 cm, containing several lymph nodes.
A histologic examination with routine hematoxylin-eosin staining (HES) of the right adrenal resected specimen showed tumor cells arranged in trabecular and anastomosing cords. The cells were polygonal, spindle or oval-shaped with a moderate amphophilic cytoplasm. The nuclei were round to spindle-shaped with inconspicuous nucleoli. Some bizarre nuclei were found with pseudoinclusion (Figs.
3
and
4
). Beside this component, a second one was found consisting of mature ganglion cells with abundant eosinophilic cytoplasm and a prominent nucleolus, embedded in a thick fibrillary matrix background (Fig.
5
). The two components were slightly separated by dilated blood vessels. Mitosis figures or necroses were not observed. The ganglioneuroma component represented approximately 20% of the tumor surface.
×
×
×
The microscopic aspect of the left adrenal resected specimen was similar to the pheochromocytoma component seen in the right adrenal specimen.
At immunohistochemistry, the cells of the pheochromocytoma component were strongly positive for synaptophysin and chromogranin, but negative for neurofilament (Fig.
6a
). The ganglion cells of the ganglioneuroma components were negative for chromogranin and stained positive for neurofilament, as well as the Schwannian fibrillary matrix (Fig.
6b
).
×
Microscopically, the nodule of the left lobe of the resected thyroid gland showed sheets of polygonal cells with amphophilic cytoplasm and oval nuclei with granular chromatin and inconspicuous nucleoli. Amyloid deposits were seen as pink amorphous globules within the tumor sheets (Fig.
7a
).
×
Tumor cells stained positive for synaptophysin and chromogranin, but negative for thyroid transcription factor 1 (TTF1) (Fig.
7b
).
The histologic examination of the parathyroid gland showed hyperplastic chief cells with reduced adipose tissue (Fig.
7c
).
The lymphadenectomy consisted of 26 lymph nodes with two metastatic lymph nodes from medullary carcinoma of the thyroid. The tumor was classified as pT1bN1b (AJCC 2009).
Discussion
Conclusions
CPC/PGs are very rare tumors and are supposed to have similar clinical behavior of ordinary pheochromocytoma/paraganglioma. The association with MEN 2 is uncommon. We have described here a case of a patient with CPC associated with MEN 2A, together with a review of the literature. Less than 100 cases of CPC/PG have been reported, emphasizing the need for further studies in order to know more about the epidemiological, diagnostic, and prognostic aspects of these rare tumors.
Acknowledgements
The authors gratefully thank Prof. S. Bennis and her team for carrying out additional immunohistochemical staining.
Funding
The authors received no specific funding for this study.
Availability of data and materials
All data generated or analyzed during this study are included in this published article.
Ethics approval and consent to participate
Not applicable.
Consent for publication
Written informed consent was obtained from the patient for publication of this case report and any accompanying images. A copy of the written consent is available for review by the Editor-in-Chief of this journal.
Competing interests
The authors declare that they have no competing interests.
Publisher's Note
Springer Nature remains neutral with regard to jurisdictional claims in published maps and institutional affiliations.
Open Access
This article is distributed under the terms of the Creative Commons Attribution 4.0 International License (
http://​creativecommons.​org/​licenses/​by/​4.​0/​
), which permits unrestricted use, distribution, and reproduction in any medium, provided you give appropriate credit to the original author(s) and the source, provide a link to the Creative Commons license, and indicate if changes were made. The Creative Commons Public Domain Dedication waiver (
http://​creativecommons.​org/​publicdomain/​zero/​1.​0/​
) applies to the data made available in this article, unless otherwise stated.