01.06.2014 | Original Article | Ausgabe 6/2014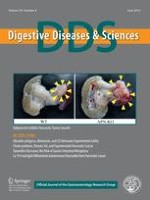 Biliary Dyskinesia and Symptomatic Gallstone Disease in Children: Two Sides of the Same Coin?
Zeitschrift:
Autoren:

Arvind I. Srinath, Ada O. Youk, Klaus Bielefeldt
Abstract
Background
Despite lack of consensus criteria, biliary dyskinesia (BD) is an increasingly accepted pediatric diagnosis.
Aims
We compared patient characteristics, outcomes, and resource utilization (before and after surgery) between children with BD and symptomatic cholecystolithiasis (LITH).
Methods
Data from the electronic medical record were abstracted for children diagnosed with BD or LITH between December 1, 2002, and November 30, 2012, at Children's Hospital of Pittsburgh.
Results
Four hundred and ten patients were identified (BD: 213 patients, LITH: 197 patients). Patients with BD had significantly lower BMI, longer symptom duration, more dyspeptic symptoms, and were more likely to present with other symptoms. Forty-one patients (13.8 %) with BD underwent cholecystectomy despite a normal gallbladder ejection fraction (GB-EF). In 32 of these, sincalide triggered pain compared to 75 of the 155 patients with low GB-EF. After surgery, patients with BD more commonly visited gastroenterology clinics and had more GI-related hospitalizations, while emergency room visits decreased in both groups. Only the nature of biliary disease independently predicted continuing pain after surgery, which in turn was the best predictor for higher resource utilization after cholecystectomy.
Conclusions
A large percentage of children with BD did not meet the adult diagnostic standards. Compared to those with LITH, children with BD have more widespread symptoms and continue to use more clinical resources after surgery. These findings suggest that despite its benign prognosis, BD is increasingly treated like other potentially acute gallbladder diseases, although it has the typical phenotype of FGIDs and should be treated using approaches used in such disorders.